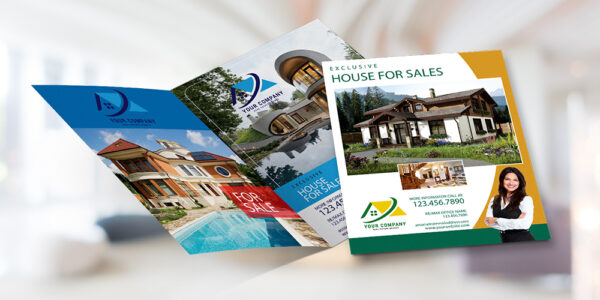 Before reviewing design tips, let's see what real estate feature sheets are created for. No sale is secured without advertising. If you ask someone having a background in real estate about this career, they will tell you that gaining sellers' trust, despite being crucial, is only the first step of the long process of house selling. No sale is secured without advertising. 
Buyers pay not for a property but for its unique features. What real estate flyers do is showcase those aspects of a property that can entice interested buyers into making an offer. 
What Is a Real Estate Feature Sheet? 
Real estate feature sheets are widely used across Canada. They are pieces of paper giving the prospects summaries of a house's data available in MLS including square footage, number of rooms, selling price, neighborhood amenities, etc., as well as quality photos showcasing the best aspect of the property. However, feature sheets are not used just for the purpose of informing. You have already added all the above-mentioned information to your online listings. Why should you print them on paper?
Why Do Real Estate Feature Sheets Matter in Advertising?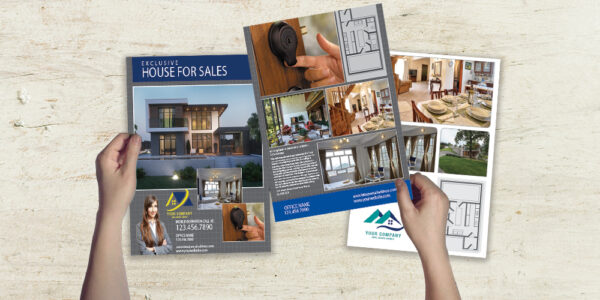 It's plain. Simply listing a property on your website will not help it sell quickly. A feature sheet is something people can touch and take home. People usually respond better to tangible reminders providing useful information about the key features of a house for sale. Real estate feature sheets are a perfect choice to make an impactful first impression on the prospects and keep them engaged with your marketing message. 
Containing high-definition photos emphasizing the best and most unique aspects of a property, feature sheets tell the buyers clearly what it is like to live in that house. The best thing about real estate feature sheets is that they allow potential buyers to compare different houses and features and find the right property that perfectly matches their needs. Be sure that once buyers find what they look for, they will contact you to make an offer on the house.
How to Make Shining Real Estate Feature Sheets? 
Use Topnotch Quality Photos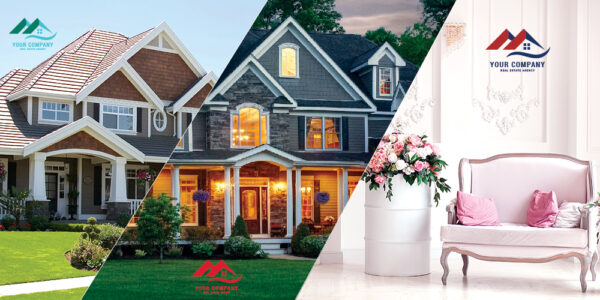 Photo selection is usually a make-or-break decision to make because the quality of the photos used in your feature sheets is usually taken as the quality of the house offered. Hire an experienced real estate photographer who knows what to do to make the house look perfect in the photos. The photos taken should cover both inside and outside of the house in addition to details of rooms, landscapes, distinctive design features, and whatever helps the property stand out.

Write Professional Photo Captions 
Captions are supposed to describe the details of the photos and provide the potential buyers with additional information about the key benefits of each part of the property. Properly worded captions draw the reader's attention to the distinctive aspects of the house.
Remember that wording matters in writing good captions. Avoid using too many exclamation marks when describing a section – too amateurish! One-worded descriptions like "Kitchen" – So what? Everybody can tell that by looking! – and irrelevant information must be avoided as well. Instead, think of a caption telling readers there is something unique about this part of the house – a kitchen with polished Granite countertops, for example.
Appealing captions can enhance the photos and make the prominent features of the house more alluring. If you are not sure what to write, consult an expert.
Write for Buyers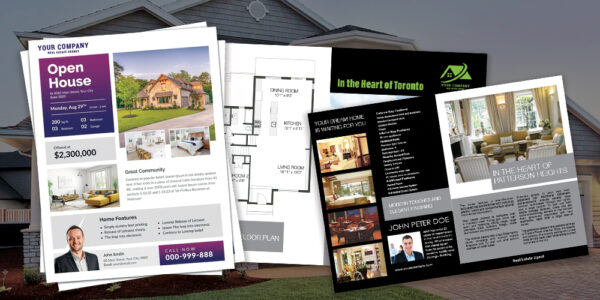 When writing the property information, avoid copying and pasting data directly from the MLS listing. Buyers neither understand nor are interested in technical jargon or insider codes. What they need is concise, clear information about a property. Only include the necessary information in your real estate feature sheets. This enables potential buyers to compare your offering with other houses listed on the market. In addition to property information, add your contact information and website address followed by a persuading note that invites readers to visit your website for more detailed photos and videos from that house. 

Entrust Your Project to a Professional
Printing is the last but not the least step in creating engaging real estate feature sheets. The quality of the print is as important as other aspects of the design. Poorly designed or low-quality feature sheets can negatively affect the prospects' perception of the house and convince them to look for better cases. 
If you lack the expertise or equipment required for designing and printing your real estate feature sheets on your own, we recommend you ask a professional printer to do it for you. AgentPrint is an online sign and marketing materials printer for real estate agents and brokers. By purchasing from AgentPrint, you will get a good deal on high-quality materials. 
We hope you find this content useful please share your views with us.