In competitive markets, especially real estate, it's crucial to have a well-founded marketing strategy in place so that you can climb above the competition. Effective print marketing materials can help your business create a good first impression, remind people of the benefits you provide, and attract new customers. Agentprint offers a wide variety of high-quality, brilliantly printed products that will help you get noticed. Not only that but studies demonstrate a large portion of the demographic that is currently in the market for real estate, millennials, who are more accustomed to engaging with digital content than older generations, still, respond well to print advertisements and their first experience of the real estate market comes through print advertisements. It's easy to see how this shows the tremendous potential that print marketing has in improving your marketing efforts.
Print advertising is still a critical part of any real estate campaign. A smart advertising strategy in this sector should include both digital and print ads. However, you should consider decreasing your spending on newspaper and magazine print advertisements and increasing investment in other forms of print marketing. Products such as booklets, newsletters, flyers, brochures, postcards, and business cards.
Read More: How to Write Real Estate Ads
Best Real Estate Print Materials That Attract Customers
What are the best materials to use when marketing yourself as a real estate agent? Before we get into specific products, let's note that you want to choose materials that stand out and are essential for real estate professionals. Among these products, you will find materials which are of higher quality but more expensive. However, it is worth the extra money since these products have a more lasting and accurate impression in your customers' minds. Of course, some of these products are essential to real estate marketing and are cheaper. Now, without further ado, let's check these products!
Booklets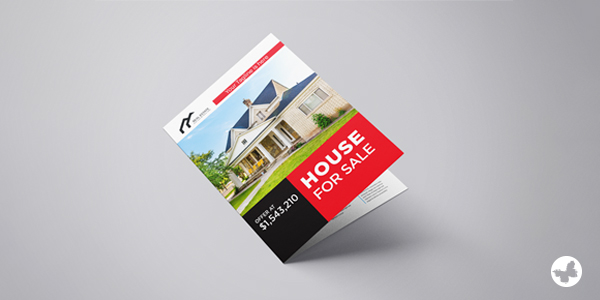 Develop a high-quality, professional-looking booklet showcasing your listings. For example, you can create photo books to put your properties in the best light possible or catalogue booklets to show all of your listings. You can also develop a buyer's packet that includes essential information about purchasing a home.
In a world that is oversaturated with digital information, customers are turning back to print for an experience that is less hectic and more reflective. A booklet can give customers the peace and tranquillity needed to learn more about your company without the distractions that a digital medium has.
When you order the print of your real estate booklet through Agentprint, you are guaranteed a prime-quality booklet with vibrant colours and brilliant design. You can add a variety of finishes that will make the booklets more durable over time. These options include 100lb gloss or matte text and cover paper and various sizes and they will give the finished product a luxurious look and make them more long-lasting.
Feature Sheets
By highlighting the features of your real estate listings that warrant close attention, fashionable real estate feature sheets can help you boost sales in a short amount of time. They offer a way to visualize the house, allowing prospects to see it immediately and palpably. A real estate feature sheet gives buyers the information they need to find a new home. Most people searching for homes have certain features in mind that help them decide if there's a house right for them or not.
The home details and photos will be attractive to potential buyers, who can see if your offer suits their needs. People voluntarily pay for what offers them pleasure or satisfaction. Property sheets have been designed to highlight the features that will make a sale more likely by pointing out the key benefits of purchasing a certain property.
Agentprint offers real estate feature sheets which are designed to leave a long-lasting image in people's minds! Beautiful photos and well-crafted content can make a huge difference to your prospects' impression of a listing when they're looking at it. Agentprint offers low-price and high-quality feature sheet printing services. The product comes in four layouts – 2-page, 4-page layouts, 8-page, and 12-page – and the cover is 100lb gloss.
Flyers and Brochures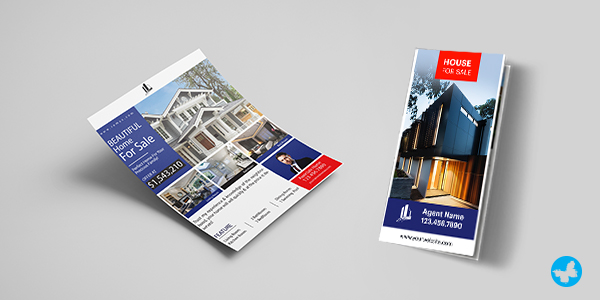 If you need a marketing tool that offers more space than a traditional postcard but is smaller than an advertisement. That's where flyers and brochures come in—perfect for spreading the word about your business or organization! each of these two products has its advantages. One of the best features of brochures is how you can easily break up information for customers by folding and assembling different-sized pages. While flyers are cheaper and can be handed out more easily than brochures.
Flyers and brochures are great marketing tools that can be distributed to clients and customers. They can be used as references for help even when customers have left your presence since they can take the flyer or brochure with them. Moreover, studies have shown that flyers and brochures are better for purchases and transactions, such as buying a property, that need a lot of time to consider.
Create professional flyers and brochures in minutes with Agentprint. You can upload your designs or use our free online design tool that allows you to customize one of our templates. If you would like to create your brochure template, we also offer plenty of ready-made templates for you! You can choose from a variety of finishes, including glossy, matte and uncoated papers. Glossy paper works well for photographs and high-quality reproductions; matte is good for text; the uncoated stock has a soft texture that's great for writing on. Spread the word about your newest listing with the help of Agentprint. Every home on the market needs a brochure, and printing them using Agentprint is an easy way to save time and money.
Yard Signs (For Sale Signs)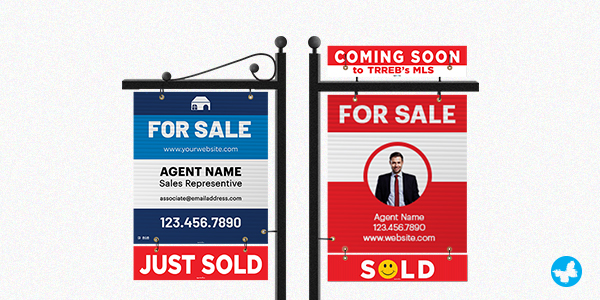 Real estate signs advertise your company and make it more visible to potential customers who drive by. Real estate signs are a highly visible form of advertising for agents. Despite advances in technology, yard signs still play an important role in the real estate industry. Placing your marketing message on custom signage is an excellent way to make sure that potential buyers see it.
Statistics show that a significant portion of real estate sold each day is discovered via outdoor signage. This is because real estate signs are great at capturing the attention of passersby. To attract buyers, most sellers place For Sale signs in the front yard and around their homes. However, real estate signs are more than just contact information. Good-looking, creative signage attracts the attention of passersby and gives them a reason to stop at your listings.
If you need to print real estate signs, Agentprint provides customers with a full range of real estate signs. In addition to numerous sizes, finishes, and other product options, Agentprint also can help you with the design and layout of your signs.
Postcards and Greeting Cards
Postcards are a cost-effective and easy way to reach your target audience directly in their mailbox. To reach clients directly, real estate agents use postcards to build lasting relationships with customers. Postcards with arresting visuals or an attractive copy can be effective marketing tools even when the reader has no intention of making a real estate purchase. Send personalized advertising postcards to your real estate prospects—and get their attention.
Another way you can get your clients to build a bond and trust you and refer more customers is by sending them holiday postcards and greeting cards! Greeting cards printed with a custom message are an effective way of building relationships and making prospects feel special. You can send greeting cards or postcards as a way of wishing someone well on his or her birthday, anniversary, or other special occasions.
Agentprint offers a variety of postcard sizes so you can promote your business, open houses, and more! Top-notch paper and quality finishes make the postcards more durable and professional looking.
Door Hangers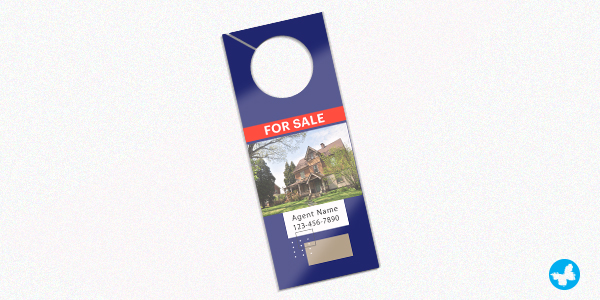 Knocking on people's doors and speaking with homeowners directly is one of the most traditional ways for real estate agents to promote their businesses. But sometimes, no matter how hard you try, all your efforts can be in vain—your prospective customers aren't home! With full-colour door hangers, you can leave them information about any future property listings or sales that may interest them.
If you are a real estate agent, you know that marketing is crucial. Having high-quality print products can help your company stand out from the crowd. Using Agentprint's design tools, templates and more will help you to create the best print products possible for your company.
Banners
Whether your goal is attracting new homebuyers, renters or leads, custom banners will help you reach them. Real estate banner ads are great crowd-pullers. Visible even from afar, real estate banners show off your advertising. Real estate banners are the most cost-effective form of large-format advertising for businesses. Real estate advertising banners are a great way to increase visibility, create exposure and promote sales.
To ensure that your real estate banner stands out in a crowd, we use full-colour printing and durable materials. And with our unique setup system, you'll be able to display it anywhere! Agentprint offers the highest quality and lowest prices. We're confident that you won't find a better price anywhere else.
Conclusion
It's no secret that print real estate advertising is becoming less popular, but the decline isn't a terminal one. While it will likely never achieve the heights of its heyday, there's still plenty of room for print advertising to succeed in this sector. Particularly if you add in other forms of print marketing, such as postcards and business cards, which have seen a big increase in popularity over the past few years.