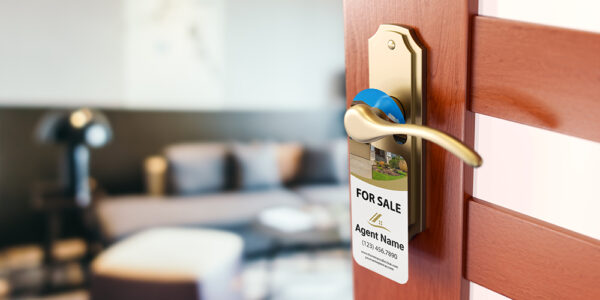 Are you in a budget crunch and can't afford to advertise? Did you know that door hangers can generate more leads without breaking the bank? Door hangers are a kind of neglected direct marketing form though they can be automatically set apart from other mails. Using a door hanger may not be the first thing that crosses your mind when thinking about real estate marketing. However, they are a great way to reach potential house buyers and communicate your marketing message with the target audience. Want to know how real estate door hangers help you with your real estate business? Keep reading then!  
Door hangers work fo real estate if:
Give a call to action on them, considering the AIDA copywriting formula.

Directly knock on doors where they were put off and see if you can start a conversation.

Track your campaign results by using discount codes.

Do a campaign at least twice to stay at the top of potential customer's minds.

Recognize the purpose of your door hanger.

When you are delivering them, carry some business cards.

If you deliver them and want to have conversation with residents, early evenings are better. 
Advantages of Real Estate Door Hangers for Agents 
Alternative Advertising 
Unlike other direct mailing tools such as real estate postcards or brochures, door hangers are less likely to get mistaken for junk mail. They are guaranteed to get noticed and seen by the recipients. What would you do if you came back home and noticed something hanging from the door front? You would remove it from the door and probably take it inside and read it – or at least, you would glance over it before throwing it away. See? They can effectively bring your presence to the prospects' notice.  
Tangibility 
Using physical, tangible, and touchable marketing materials can stimulate senses and prompt the recipients to respond to your message. Unlike online ads or billboards that have a short-lived, fleeting impact on viewers, door hangers will leave a more lasting impression. Remember that using high-end paper stock for your door hangers will multiply their effect.
Multiple Exposure

Once a recipient sees your real estate door hanger on the front door and brings it inside, it is quite likely that he gives it to other people to have a look at. It means more people will know about you and your service. What if the recipient pays no attention to your door hanger? Don't get disappointed! In that case, he/she probably lets it be on the doorknob for other people to see.
Door to Door Marketing 
Real estate door hangers are one of the most effective forms of direct mail marketing to reach local prospects. They provide you with the opportunity to build your image and generate leads in a specific geographical area without using other advertising forms like social media marketing. You only need to recruit a few people to go door to door and hang them from the door fronts. That way, you can rest assured that your advertising message is timely conveyed to the right individuals. 
Up-to-Date Information 
No matter how good you are at your job, people will forget easily you if they don't hear from you for a while. Distributing real estate door hangers at regular intervals helps you refresh the recipients' memories and remind them about your presence in the area. Besides, they allow more potential buyers to get informed about your current listings and upcoming sales.
A Low-cost Option 
Though large corporations often have no financial constraints for marketing, smaller real estate businesses often miss the chance of growing because of their tight marketing budget. The costs of ordering and printing real estate door hangers are very low. Yet, they can go a long way regardless of your advertising budget. Moreover, you don't have to spend a lot of time and money to distribute them among the local prospects.
Customizability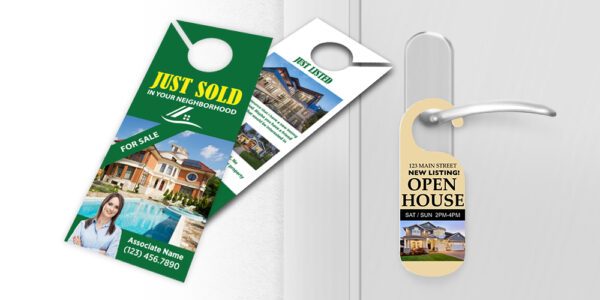 Another great advantage of real estate door hangers over some other forms of advertising is that it is entirely up to you how to design them. You are free to decide on the graphic design elements (layout, fonts, pictures, and color schemes) that match your marketing needs best. If you are targeting a specific local region to distribute, customize them in a way that they can prompt the desired response from the people living there.
Though real estate door hangers will pave the way for you to reach new leads in specific neighborhoods and local areas, they don't suffice to last in the highly competitive real estate market. To become a highly influential agent in the targeted area, you need to deploy other useful marketing tools and strategies but also improve your knowledge and skills. 
Don't know where to get truly effective real estate door hangers? Let a professional printer design and print them for you. AgentPrint offers you beautifully designed, high-quality door hangers. Besides, you have access to a countless number of free DIY design templates to create your customized design. 
We hope you find this content useful please share your views with us.