Long before the internet changed the way people do business, it was common practice to set up a real estate sign in the front yard of a house. Today, despite the dominance of the internet, most business owners, those working in real estate included, still heavily rely on signage. The main reason is that a high percentage of real estate agents' income comes from the commission on the sale. Let me put it simply. As a real estate agent, you can make money only if a house sells. That's why new agents should try hard to get their names recognized in the community. Using real estate signs will allow you to create a dominant presence in the market.
How does a Real Estate Sign Help Sell a House? 
To become a successful real estate agent, you need to be visible to potential customers first. That's what a real estate sign does for you – it increases your brand visibility and lets the words out about you and your listing. 
Though the majority of home buyers start locating their desired house and neighborhood online, the effect that a properly designed sign may have should never underrate. A real estate For Sale sign is a physical indication that a house is listed on the market. Signs make your name be seen everywhere – what online ads may not do – and also establish your name in the area. The following tips will tell you how to make the most of your real estate signage.  
Tips for a Success Real Estate Sign Marketing 
The More the Signs, the Better the Visibility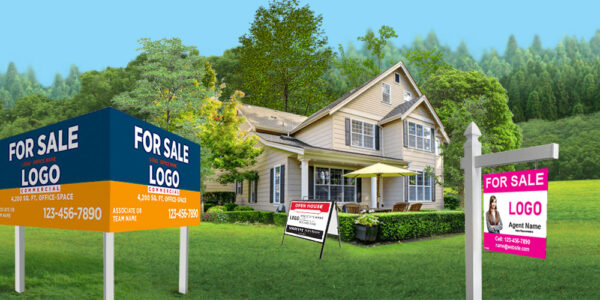 "Is one real estate sign enough?" Before answering the question, let's see how a real estate sign works. Outdoor signage acts as a way to draw buyers' attention to your listing and also to display your phone number, email address, and website URL so that interested buyers can contact you for further information. So the number of signs placed around a house highly matters because it is directly related to its visibility. There is no harm in installing more than one sign. The more, the better. Remember that understanding and implementing sign installation regulations allows you to gain the maximum benefit from this marketing strategy. 
Simple Is Attractive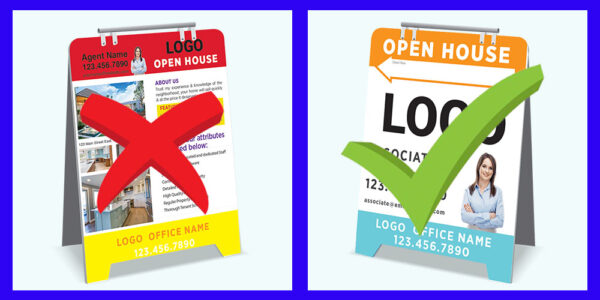 Why do some real estate signs get a lot of attention while remaining almost invisible? You will lose your chance for earning a high commission if your real estate sign fails to get noticed or spark the buyers' interest.
No doubt realtor signs must be so attractive that they encourage passersby to stop and read them. An inappropriate or overcrowded design, however, can ruin the appearance of your real estate sign. You are trying to sell a house after all, not to show off your artistic skills.  A minimal, yet engaging design helps you communicate your message effectively. Besides, leaving some white space on the sign helps avoid complications and makes the texts more readable. 
What Should a Real Estate Sign Say? 
Keep in mind that your sign only has a few seconds to be viewed and read by those who drive by. Overcrowding your design with too much information makes it difficult to read. Make your marketing message as short, simple, and understandable as possible. Wording must be done carefully. Make sure that your wording is concise and clear. Avoid tricky, offensive, or ambiguous words. 
To make your real estate sign stand out, you should get away from standard generic terms seen on all typical signs. Instead, choose engaging words that spark potential buyers' interest. Consider adding a smart call to action that creates a sense of urgency in the readers. 
A real estate sign is a great marketing tool to communicate with your audience with your distinctive voice. AgentPrint is an online real estate signs and marketing tools shop with a team of professional designers that provides real estate agents with quality signs at an affordable price. Please visit our website or contact us for more information. we'll be happy to help you!
We hope you find this content useful. Please share your views with us.