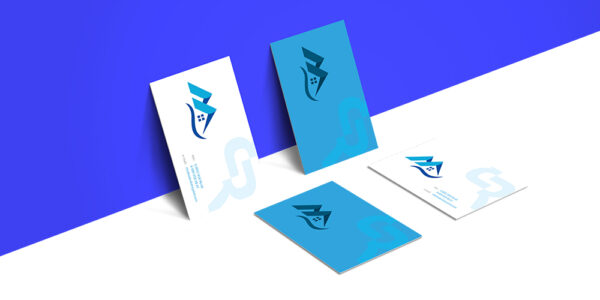 Why is business card design important? These pocket-sized billboards are great tools for fulfilling a number of basic marketing needs. Though we are living in a digital age, you will miss many great marketing opportunities if you don't have a physical, custom-made business card to hand out to a would-be customer. I am not talking about poorly designed cards that are found in every wallet or drawer, but a distinctive card.
A well-designed business card functions as a powerful versatile tool that makes a big difference to your professional status. Here are some basic design principles that help you do your business card design by yourself. 
How to Create an Exemplary Business Card Design? 
Follow the Basic Principles 
As the first step, it is worth mentioning that like any other printed material, you should follow the most basic principles for business card design. For example, all key copies must be kept at least 5mm from the trim edges of the cards. To achieve the best quality reproduction, all images should be designed in CMYK and be in at least 300dpi. To make the business card design legible, a minimum font size must be maintained.
Choose the Right Style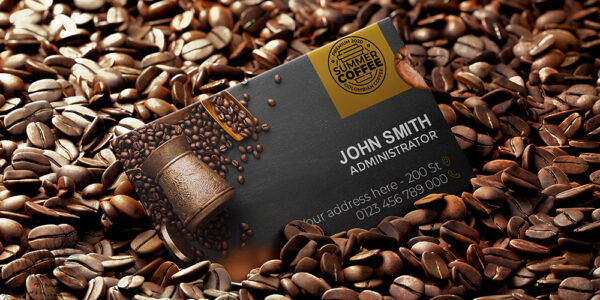 The first thing to do before deciding on the style is to think about what style really lends itself to your business. A plain and simple business card design or a design laden with colors? The colors and design selected should be associated with your business industry.
Pick the style that nicely represents the products or services you offer. If you are not sure which style fits you best, study various business cards from the same industry or cards of your own competitors. Remember that you do not need to emulate others' cards – the style you choose is supposed to differentiate your business from the rest. 
Include Contact Details
Since there is only a tiny space available, you need to decide on the information that should be included in your cards. To avoid struggling with space, the only necessary information should be included. These days almost every business has a website, email address, fax number, mobile number, social media handles and other ways of contacting. In addition to contact information, your business card design must prominently represent your name and surname, job title, and the logo and name of the company. 
Make It Legible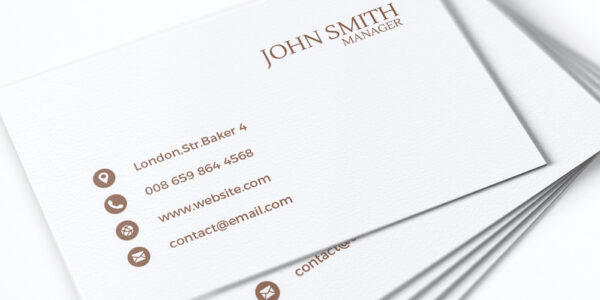 Real estate business cards are essentially designed to quickly share contact information with prospects. Avoid using smaller font sizes to include more details. This makes your card difficult to read at first glance. Moreover, very small font sizes may make the letters look messy after printing.
Remember that business cards are business cards – not booklets or brochures. Avoid overcrowding the design with a lot of information. This makes it look confusing, disorganized, illegible, and eventually useless. People don't read wordy business cards, let alone remember them. To make your brand name easy to recall, just include the necessary information.   
Be Consistent with Other Brand Materials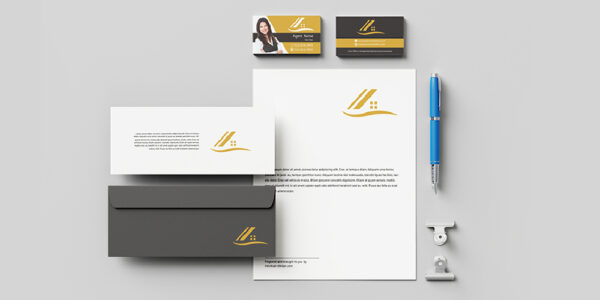 Consistently plays a vital role in branding. Generally, people recognize and remember a brand with its logo, color scheme, typography and other visual brand elements. Repetition engraves a brand's name in the prospect's mind. Since these factors are the fundamentals of the brand identity, they must prominently appear in the layout and style of your business card design. Representing your brand in a consistent fashion will improve brand familiarity among people and increase your revenue. 
Decide on the Best Shape and Size 
Before starting to design, decide on the size and shape of your business cards to know what font size is appropriate for your purposes and how much information can be included on the cards. Horizontal rectangular cards are the most common orientation used. If standing out is important for you, you can choose vertical cards to appear differently. Also, using innovative shapes like circles, ellipses, or any shapes that are directly associated with your products or services or convey the quality of your business instead of classic shapes can give your brand a sense of uniqueness and professionality. 
Select Appropriate Fonts 
Whether you choose classical serif styles or creative, eye-grabbing designer letter sets, the fonts talk more than words about your professional identity. Generally, it is recommended to select three sizes to build a hierarchy when putting the text. The font size and style of the fonts highly influence the appearance and readability of your cards. Avoid using too small font sizes – not everybody has a perfect 20/20 vision. To get assured of size appropriacy, you can ask your friends or colleagues if they can read the text without problem. 
Come up with an Appealing Call to Action 

Most business cards do not have a call-to-action, but you should act differently. Offering special discounts or inviting readers to visit your new products on your website considerably increases the marketing value of your cards. Think of a clear, actionable call-to-action to tell the prospects where to go and what to do next. Start your statement with action words such as read, call, contact, visit, etc. Use words like right now, today, within the next 72 hours, etc., to create a sense of urgency. At last, tell your prospects what's in it for them if they do as they are told. 
Leave a Lot of Blank Space
Leaving enough blank or white space around your text or graphics on the cards helps you give more emphasis to the most important details. Ideally, you should strike a balance between your text and graphics and the blank space around them. Avoid filling your business card design with unnecessary elements or information. Proper use of blank space makes it easy for the readers to access the contact information. 
Put a Personal QR Code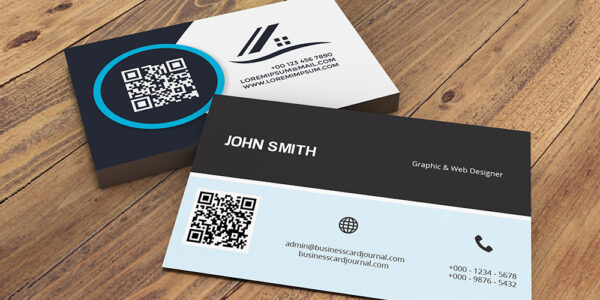 It is a wise, smashing idea to create a QR for yourself and put it on your business cards. Obviously, it is impossible for you to insert all details into the small card space. Having a QR code, however, is a great and easy solution to give plenty of company information to the prospects without cluttering the cards. Moreover, your clients can add your contact information to their smartphones without bothering themselves to type it.  
Add a Special Finish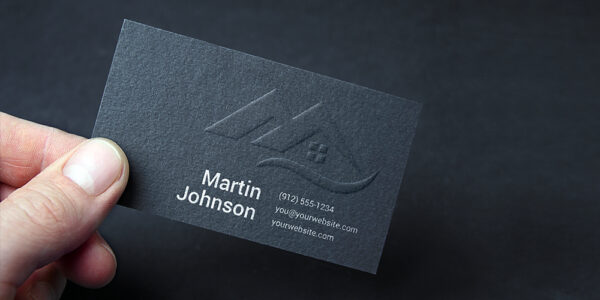 Want to leave a lasting impression on the prospects as soon as they touch your business cards? Consider adding a special finish like spot-UV, foil blocking or velvet lamination to your cards. Though this may cost more than planned, it can do wonders. If you are not on a budget, it is highly recommended to add a special finish to your cards to make them more tactile, tangible, life-like and memorable. Remember that high-quality cards are more likely to be kept by high-end clients or shared with more and more people. 
Add Stunning Visuals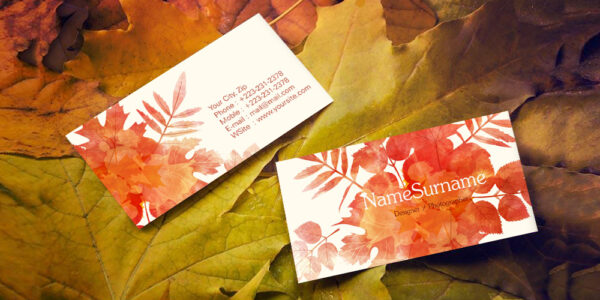 As a rule of thumb, the text including the company's primary and contact information appears on one side of the card. So you can use the other side of the card to add subtle visuals. Remember that impressive visuals speak louder than hundreds of words. Choose visuals that enhance your professional look and lend credence to the quality of the products or services you offer. Bright, vivid, and contrasting colors make the cards get spotted instantly by the prospects. 
Use High-end Materials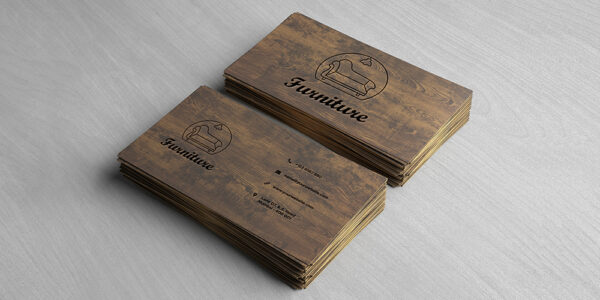 Though business cards are traditionally printed on card stock, creative use of less-tried materials like plastic, metal, wood, etc., in combination with card stock gives an out-of-ordinary appearance to your cards that even interests picky clients. Furthermore, most people associate the quality of the business cards with the reliability of a brand. So don't put your professional identity at stake with cheap materials.  
Go to Professional Printers 
No matter how perfect and creative your business card design is, second-rate printing on poor quality card stock will let down your project. You may prefer to print your cards at home but keep in mind that homemade cards cannot beat professionally printed cards. If the printing is not done by a trained printer or with the appropriate equipment, the final print may come out distorted. To avoid this from happening, take your project to a professional printer. 
Make Your Design Simple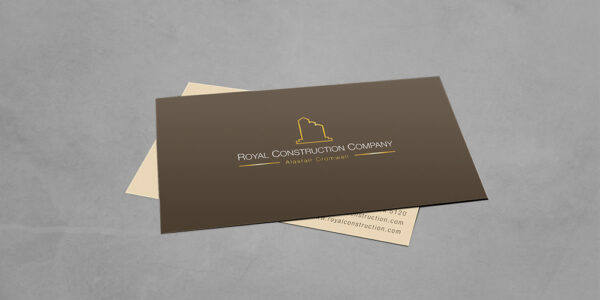 Leonardo da Vinci once wrote, "Simplicity is the ultimate sophistication." Though some novice designers may think that being simple is the same as being unattractive or boring, it is far from being the case. Sometimes a colorless, simple style is more elegant and preferable for a sophisticated or specialized business than a colorful business card design with many images. Minimal designs also give adequate space for important information to appear prominently and grab attention. 
Do the Final Check 
Once you are done with your design, proofread it carefully and correct mechanical errors like spelling mistakes or incorrect contact information. Ask a friend or, if possible, consult an expert to see whether the wording is appropriate and clear, the font is legible, and the visuals are impressive and pertinent. You do not intend to damage a prospective business relationship, do you? So make sure that no off-putting mistakes are left unnoticed before sending your artwork to print. 
Frequent Business Cards Mistakes to Avoid 
Inappropriate Data Placement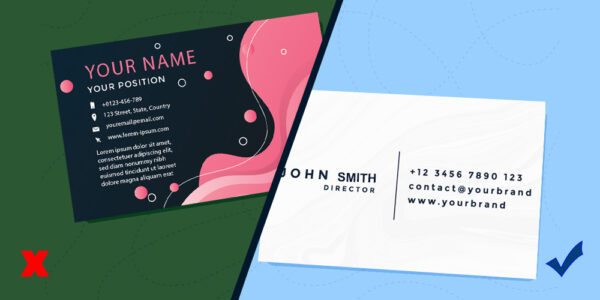 This is at the top of the list of the most frequent mistakes to avoid when designing a business card. Don't place the most important information on your cards in such a way that people find it either too disorganized or too confusing. To make it easier for the prospects to read and respond to your marketing message, it is highly recommended to follow a standard pattern for data placement. Generally, the information is put on a business card design in the following order: name and surname, job title, company, and contact information. 
Choosing Oversized Cards 
People usually keep business cards in their wallets or cardholders for a long time. Oversized cards, however, are more likely to end up being thrown in the trash bin because most people may find these annoying, unfriendly, and useless. The standard 3.5 by 2-inch business cards are still a great choice. 
Using Thin Paper 
You may be on a limited budget and want to save a little money on your cards. But remember that using cheap, thin cardstock is often taken as poor and unreliable service. If you want to build trust and loyalty with your clients, consider printing your cards on paper with appropriate thickness. Otherwise, it will send just a message to recipients, "I don't care about the quality." 
Using Harsh Color Schemes 
Color choices are so important that they can make or break your business cards. You need to understand how colors work together before starting to design, or the balance of your business card design may be negatively affected. Avoid using color schemes that are impertinent to your brand or clash with your business industry or color contrasts that make the business card design uncomfortable to look at. Cheesy and unprofessional colors pairing should be also avoided. 
Lack of Unique Selling Proposition 
A very important part of a marketing campaign is informing the customers about how a brand is superior to its business rivals. If your business card does not include a Unique Selling Proposition, you will lose the chance of using its full marketing potential. You must give at least one convincing reason to your customers why they should do business with you. A good Unique Selling Proposition defines the company's premise, explains the problems you solve for your target audience, and lists the top benefits the prospects get from doing business with you. 
In the end, if you are still in doubt, consult an experienced expert to rest assured that everything is done perfectly. If you don't know anybody to ask for help from, just give us a call or send us an email. Agent Print specializes in offering personalized cards for agents. Our professional graphic designers are ready to assist you with your design. 
 We hope you find this content useful. Please share your views with us.