Real estate agents have to be experts at marketing themselves. This means more than just putting a For Sale sign on the lawn and placing your face on benches across the city. How do you make yourself stand out when the market is overflowing? There's approximately one real estate agent for every 96 Canadians over the age of 19, and the number continues to steadily climb as more people break into the home selling market. Making a name for yourself is more crucial than ever. The good news is that if you're making use of both digital and print mediums, you're already ahead of the competition. Here are a few pro-tips to help you get ahead as a real estate agent in 2020.
read more: What The Future Of Real Estate
Define Your Identity With Digital And Print Promotionals

In 2020, it is essential that real estate agents be both print and digital savvy. While print is still an effective way to connect with clients (79% of consumers act upon print materials sent via direct mail, versus just 45% opening an email), ignoring the opportunities for digital marketing puts you at a disadvantage. Merge the avenues of digital and print to better increase your visibility as a real estate agent. A creative way to stake out a social media presence is to include on your flyers, brochures, business cards or booklets where your potential clients can reach you on Facebook, Twitter, or Instagram.
Pro Tip: Expand your digital footprint by including QR codes on your print materials: clients can gain access to exclusive virtual home tours or photography by scanning the QR code on your flyer or signing up to your email list. Invest some time into your social media presence and don't cheap out on the best quality promotional print materials. Both digital and print are indispensable for growing your business.
Create Unique Business Cards That Stand Out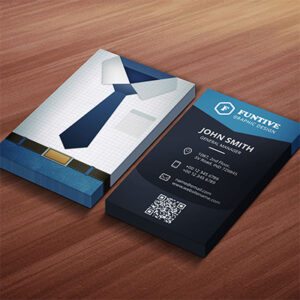 These days the real estate market is oversaturated, which means that your local area is probably flooded with other real estate agents who are all vying for a strong customer base. Everyone wants to reach the stratospheric levels of @wolfofkingst. How do you start? One way you can stand out from the crowd is by creating a unique business card: one that is smaller, bigger, more reflective, bolder, or brighter than your average business card. Don't just rely on the corporate business card that's given to you by your brokerage firm. People like to interact with people – your customers will be more receptive if they feel like they're connecting with a person, not an agency. Establish yourself as an immediately recognizable face and watch your client base grow.
Pro Tip: Minimal designs and bold colors are big marketing trends for 2022. incorporate these styles into your business card.
Using Print to Improve Real Estate Marketing and Sales
Despite what the current digital culture may tell you, print is still an essential part of the home buying process. Offering printed materials –  polished flyer sheets, sleek presentation folders, fancy business cards – provide your client with the information they need to help them make the biggest financial decision of their lives. Print materials still matter in the digital age – they allow you to control the breadth of information that your client will see and highlight everything that makes their prospective property so unique.
Pro Tip: Offering your clients beautifully printed materials offer your clients a transparent peek into the home-buying process. Invest in the best-printed materials possible – they offer a better opportunity for growth, stronger client loyalty, and closed sales.