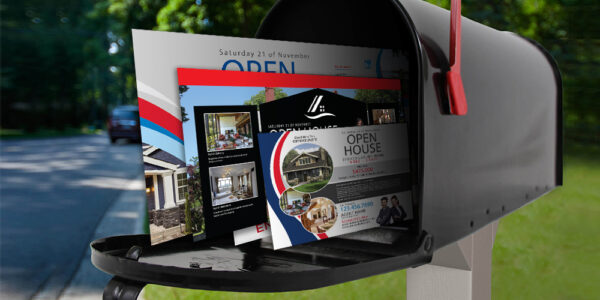 What do you think about the title? Can direct mail marketing still play a role in your business growth? Covid-19 pandemic has got real estate agents all across the country to reconsider different aspects of their careers and adjust their methods of professional development to suit the current needs of the market.
If you are a real estate business owner, these questions have crossed your mind: How can I maintain steady revenue from my real estate business? How can I get as many eyes on a house as possible while there is a lot of uncertainty with the current housing market? Obviously, there is no one-size-fits-all answer. 
Since the outbreak of Covid-19, Most real estate agents have turned to modern marketing methods such as online open houses and real estate virtual tours. In the presence of new advanced technologies used for marketing, there seems to be no room for traditional marketing methods such as mailing. Moreover, there are fears that the disease will spread through mails or parcels. So, you may ask yourself, what is the point of sending mailers to clients? Does direct mail marketing really generate sales? 
Mailers & Covid-19 
Despite all the worries caused by the Covid-19 pandemic, fortunately, more and more people are turning to CDC guidelines to learn how to deal with mails and parcels being delivered to them. To put it simply, direct mail marketing can still be considered a practical method to reach new business clients. 
You may already have prepared a listing of houses for sale for your website or even had attention-grabbing signage displayed outside of the listing. However, most people are willing to stay at home or telework. Unless they need to run necessary errands, they won't go out of their homes, let alone notice your signage.
On the other hand, the short attention span of people doesn't allow them to keep their thoughts fixed on online adverts while browsing the web. By using direct mail marketing, however, you can drop your advertising message right under the prospects' noses and rest assured that they won't miss it. 
Direct Mail Marketing Tools for Real Estate Agents 
Postcards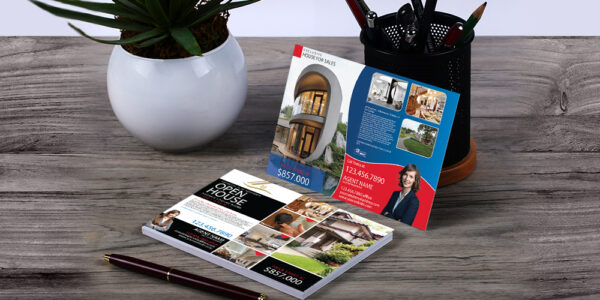 When it comes to direct mail marketing, realtor postcards are a cost-effective choice – even cheaper than sending letters. They may seem to be irrelevant at first glance, but we disagree! Properly designed postcards get people to talk about your real estate business, especially when you focus on specific local areas. Another benefit of postcards is that they are distinguishable from junk mail and are more likely to be read. They allow you to make a direct, quick connection with local prospects.
Brochures
Everybody knows that real estate brochures are about business. Brochures are valuable marketing tools. They can convey a large amount of information for their size. They also offer a direct, quick way to introduce your company and its achievements, give a snapshot of the services you offer to your clients, talk about the benefits the readers will get if they do business with you, and invite them to contact you or visit your website to get more detailed information about the houses listed on the market. Compared to postcards, brochures are highly versatile. You can mail them, use them on location, or simply hand them out at real estate events. 
Letterhead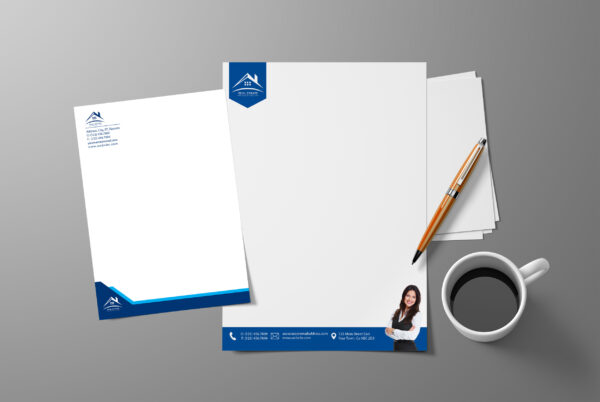 Using personalized business letterheads is much more leads-generating than most real estate agents believe. It is not just a means of correspondence but a physical reminder of your business. There are occasions when you need to send a letter to a client or business partner. Which do you think is more memorable? A headed letter or a letter written on a boring blank paper?
Well-designed letterheads display professionalism and credibility and leave a lasting impression on the recipients' minds. They are also extremely powerful tools for branding. People may not recognize your name, but they can surely recognize the logo and color scheme of your brand.  
If you have never considered using direct mail marketing before, we suggest you not be afraid of trying this tried-and-tested marketing method. 
We hope you find this content useful. Please share your views with us.