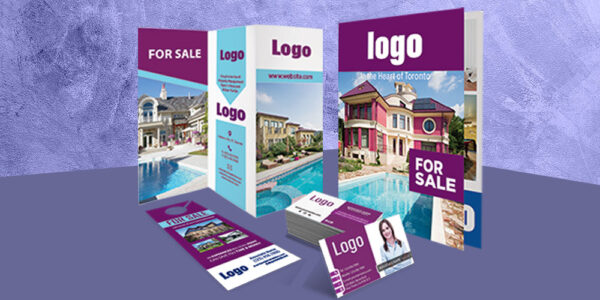 Print marketing or digital marketing? That's the question many real estate agents ask themselves before running a new marketing campaign. Every day, many businesses are making the switch from print to digital while others, real estate included, still rely on print marketing. 
Digital marketing can target a wider local audience, offer a diverse range of opportunities for lead generation, and measure the return on your investment (ROI) carefully. It is a great strategy to increase your brand's recognition, traffic, and sales without breaking the bank. 
Despite the clear advantages of digital marketing for real estate agents, print marketing materials such as For Sale signs, business cards, postcards, etc., remain relevant and influential in the industry. Here are the reasons you need to integrate print marketing into your marketing campaign.
Advantages of Print Marketing over Digital Marketing 
Ever-Evolving Nature 
You probably heard the myth that real estate print marketing is dead but that's not the case at all. In reality, print marketing has evolved with the help of new technology. Recent advancements in print technology have transformed print into a highly influential marketing medium for real estate agents and brokers. In addition, printing costs have been significantly lowered as a result of employing new printing methods. Print marketing is a powerful strategy to boost your real estate listings. See? Not only is print marketing not dead, old-fashioned, or expensive but also is more influential than ever. If you fail to understand the nature of modern printing, you will rule out a great chance of growth. 
Meaningful Connections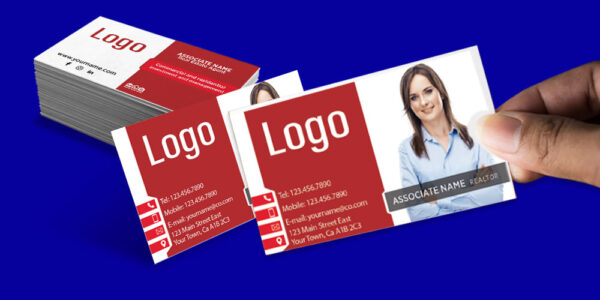 Touch is proven to be the most lasting sense and the best form of emotional connection. It is such a powerful sense that can affect people's attitudes towards a company. Think, high-end paper stock, high-definition pictures, and professional design are usually perceived as high-quality services and products. 
In addition, the aesthetic appeal of professionally designed business cards, for example, lends itself to inimitable credibility and trustworthiness. Your print marketing tools describe your professional identity. Prospects are far more likely to trust you if they find you a reputable and professional real estate agent. The more the prospects get engaged with your marketing campaign, the better they will respond to your call to action. 
A Vivid Reminder
It is proven that print marketing tools such as real estate flyers can boost readers' cognitive engagement with the content – something that not many digital media can do. That's no surprise. Your marketing message is far easier to process when it is presented via print. By adopting an effective print marketing strategy, your potential clients are more likely to recall your brand once they need to buy or sell their homes. 
Perfect for On Ground Marketing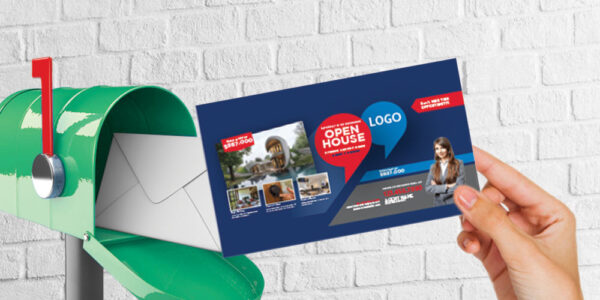 For the home sellers or buyers who are confronted by a clutter of online advertising every day, print marketing is an excellent opportunity to have a tangible, exciting, and memorable experience with your brand. By giving your clients a unique experience, you can achieve the maximum level of customer engagement which results in developing a meaningful relationship with your brand.  
Nothing can beat print when it comes to targeting specific demographics. If you run a small real estate business, print marketing is an easy way to reach local clients. Real estate postcards are one of the most effective direct mail marketing forms that can significantly boost your brand recognition and guide potential clients directly to your office.
Print Marketing or Digital Marketing? 
Any marketing strategy has its own limitations. Print marketing is no exception as, unlike digital marketing, there is not enough interaction between this medium and the potential clients' access to your listings or service. The best way to remedy the shortcomings is by using print materials in combination with digital tools. By adopting a couple of tried and tested real estate marketing strategies, you can leverage the benefits of both approaches.
Don't know where to find quality real estate print marketing tools? AgentPrint, an online real estate signs and marketing tools shop with a team of professional designers, offers a wide selection of marketing materials. Not only do we match the price but also beat it by 5%! Please feel free to contact us for more information. 
We hope you find this content useful. Please share your views with us.