Real estate consulting business cards are the most powerful way to share contact information and increase reputation and credibility in face-to-face meetings in the profession. These cards can also act as a key to entering the real estate brand's website and contacting agents by phone.
However, designing a real estate business card can be a challenge; Because you have to put the most important information in a very small space. Also, the design of the card should be attractive enough to attract the attention of potential customers. In this article, we will learn about the dos and don'ts of designing this type of business card.
4 Real Estate Business Card Requirements You Should Adhere To
Business cards in the real estate market are very effective in marketing; So you can't leave its design to chance and say welcome to whatever happens in this design! On the other hand, for a successful design, you need to be familiar with the requirements of this type of card to comply with them during the design or to expect compliance with these requirements from the designer. We review some important requirements in this field together:
Enter your license name and license number
Establishing trust in the audience of a real estate business card is one of the requirements of its design. The most important way to gain trust is to add your work permit information. Therefore, be sure to include the brand name, license type, and registration number in the real estate business card. You can also add your endorsements and key contributions as a summary on this card.
Add logo
The real estate brand logo is one of the most important elements in the design of this card. If you haven't decided to design a logo yet, you must do it because the logo increases your credibility and differentiates you from other brands. Also, if the card is for one of the brand consultants or a freelancer, you can use a special design for the name and surname.
Contacts
Potential customers need contact information to contact you. An attractive business card can attract the attention of the audience, but if your audience can't easily find the contact information on it, they will throw it away.
Some of the details to include on the business card to create interaction with the customers are:
Business name
Agent's name (job title and expertise)
Business website address
Business address
Fixed phone number
Real estate's mobile phone number
E-mail
Social network address
Value proposition
One of the most important pieces of information that should be placed on your business card is the value proposition of the consultant or brand. This means a slogan or a text that shows which customer's need or needs you are going to meet or what problem you are going to solve for him. The value proposition is the promise of the brand and it must be honest on the one hand and a special offer on the other hand so that the audience prefers your brand's offer to the offers of other brands.
Business Card Mistakes to Avoid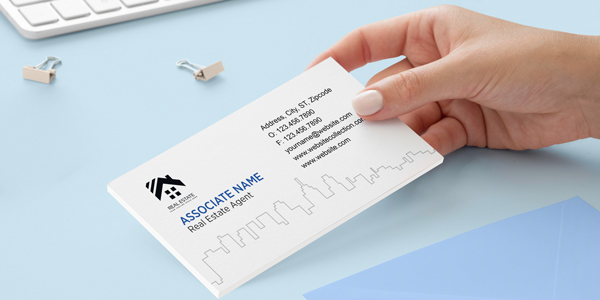 The cost of a business card, even a luxury type, is not high compared to many environmental and internet advertising costs. This means that you may think that your mistakes in business card design do not have many financial consequences for you. While this is not the case.
Note that a card that does not meet your brand goals and advertising goals is not only useless but may cause the loss of a potential customer and a buying, selling, or mortgage, and rental situation; And this means financial loss!
On the other hand, mistakes in business card design can reduce the credibility of the brand and the trust of its audience. In the following, we will review some of the mistakes that you should not make in ordering and designing these cards:
Tiny print
Don't expect your audience to pick up a magnifying glass to read your words or contact number on your business card. If you want to put a lot of content on the business card, you will have to use small fonts; But this solution reduces the possibility of the reading card information.
Unreadable letters
Some people like weird or crooked fonts because they are different. Maybe at first glance, the use of such letters will attract the attention of your audience; But this is useful if he can recognize the words and read them in the shortest possible time. So be sure to use readable fonts.
Lack of branding
After visiting several real estate agents, real estate clients have many business cards in their hands or pockets. What is important is that among these cards, these people remember a card on which the branding points from the attractiveness of the pattern to the visual identity of the brand, and the presentation of the brand's goals (in the fewest words) have been observed and applied. Therefore, design a card that differentiates and remembers your brand.
Strange shapes and sizes
Being different is good, but it shouldn't come at the cost of throwing away your business card. Design the size of the business card so that it does not look like a vaccine card or other cards. If the customer can't fit your business card in their bag or pocket, they will throw it away.
Too much clutter
If your business card has too much clutter, the audience will be confused and the first impression they will make is that your work is as messy as the same clutter. Don't make the audience feel annoyed when they see your business card and throw it away right away.
Real estate stock picture
Do not put a stock picture of a house or property on your real estate business card. This is an unprofessional practice. Apart from the fact that you occupy a significant space of the card for no purpose, presenting yourself to the audience in this way is not attractive at all.
Typos and misprints
If you want your client to think of you as someone who doesn't care about your work, make a typo and misprint. In a business card with a small space, is it justified to make a mistake?
What should you not put on a business card?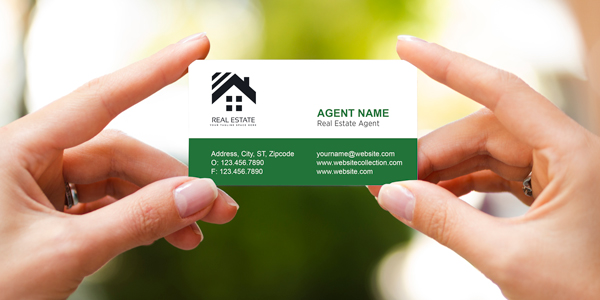 Harsh and irrelevant color schemes
Do not use harsh and irrelevant color schemes for real estate consultant business card design. In this context, in addition to using the color spectrum used in the visual identity of your brand, consider the points of psychology and harmony of colors.
Irrelevant shapes
Irrelevant shapes have no place in a real estate consultant's business card, and it is better to use designs that evoke your field of work.
Slogans and exaggeration
Real estate agent business cards are not the place for motivational statements, long quotes, and a list of your brand goals.
Photos of your files
These cards should also not have several photos of your files but should convince the customer to see these files on your website, or through a phone call or visit to your office, get acquainted with these files, or a file for sale. or rent to you.
Conclusion
As a real estate agent, it is very important what you include in your business card. You should be very aware of the dos and don'ts of your business card. It is clear that we mention choosing the right options and placing these options in the right place, font type, color type, logo shape, readability of words, and necessary information that can establish the best communication with the customer.
We hope you find this content from Agent Print useful. Please share your views with us.