No matter how much you use digital advertising and social media marketing, printed brochures still have their place and do their job for the benefit of your advertisement. Companies big and small need brochures as a way to advertise. A brochure is a concise way to share information and encourage people to buy products and services. A brochure is a tangible and valid sales and marketing tool.
Benefits of the printed brochures
The fact that still in the digital world, brochure printing and distribution has its own power cannot be ignored. According to statistics, 80% of those who are given that brochure, refer to the advertised business. According to another research, 7 out of 10 tourists pay attention to the brochure.
Producing a brochure shows the message to the audience that your business is professional and committed to producing quality products and services.
Information
Brochures are usually used to inform customers about the company. This information is related to the product or service that your company offers.
Easy for distribution
You can strategically place Brochures in different places. This allows your company to send positive and accurate information to more people and attract new customers. This marketing strategy allows you to reach many new customers.
Affordability
Compared to some online marketing options, brochures are a low-cost marketing plan. Plus, you can choose to design and produce your brochures to fit your budget. By choosing the right circulation, you can also reduce the price of brochures. Also, brochures usually include information about your business, which makes them useful for many purposes. You can share them with potential customers, loyal customers, business contacts, and others. When you have a summary of your products and services available in your brochure, you save time and money.
Business credit builder
When you have the eyes of your potential customers reading your brochure, you can build trust. Most companies have their objectives in their brochures. This information helps customers see your company's merits. When customers can read about how your services and products work, they will trust your company more.
C2C Transfer
Although it may seem simple, you can pass it from person to person using flyers. This old method works today and you can easily use this method and attract your contacts to yourself with the method of printing brochures. The brochure will easily find you and come to you.
Attract people's attention
Compared to flashing banner ads that compete for attention, or even billboards that drivers may speed past before consumers have a chance to read, one of the advantages of brochure printing is that They provide a simple and tangible way to get information. After a long day in front of a computer, many people probably look at brochures more than pay attention to advertisements on the Internet.
Diversity
Compared to postcards and other printed items, brochures can be sent to your customers through postal systems and they can pick up your brochure at their door. These multipurpose features make you decide to print a cheap brochure because the brochure can tell all the services of different departments of your organization and send it to your customers easily.
How Effective Are Brochures In Marketing?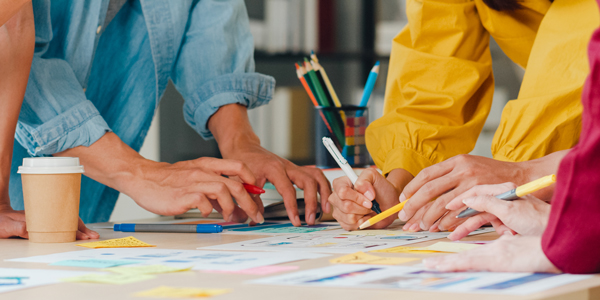 Marketing through brochures is effective in many ways. Especially in the discussion of networking. Brochures are affordable and help you find your target audience.
According to some research, brochures delivered through door drop marketing can stay in a house for 38 days, and 23% of it gets circulated to family members. According to Bentley university, 79% of tourists like to pick up brochures; 85% of people who read brochures learn about new businesses, and 61% of people buy products once they see them in brochures.
Reach your target audience
Since flyers are distributed manually, they have the advantage of giving out during events to those people who are exactly your target audience. And since brochures contain information about your business, it is precisely this audience of the target community that gets to know your work.
Interaction
The brochure is always available to your customers. If he wants to give it to another customer, it is available to him and he can easily give it to another person. Or if it has come to your exhibition stand, holding it in your hand can make a powerful connection with you.
Beauty & Appearance
The appearance of a brochure is the most important thing. You should make sure that your brochure has a very attractive appearance. When a customer comes across a not very attractive brochure, the first thing that comes to his mind is that the brand owner does not pay attention to his work, and someone who does not pay attention to his work does not deserve attention from others.
Therefore, the choice of colors, shapes, and quality of paper is very important. Use high-quality stock and inks.
Matter of cost
The state of digital marketing techniques is clear. They can cost you hundreds to thousands of dollars per month. Go to printing techniques such as offset. You can easily print thousands of brochures at the lowest cost.
The distribution of brochures is also inexpensive. Because customers spread it hand to hand and marketing is formed by the customer.
Branding
Make the most of the logo, design, and colors in your brochure. You should be so careful in this work that your audience remembers you when they see the logo or the organizational colors of your brand. Just like big brands like Adidas, Coca-Cola, and McDonald's.
Conclusion
Because brochures are so effective for your company, leave it to a reliable printing company. A poorly printed brochure will kill all the credit you can earn. Investing in quality products will tell you about the image of your business. You can count on reliable companies printing expertise and flexibility to produce brochures that will make your customers want to.
We hope you find this content from AgentPrint useful. Please share your views with us.