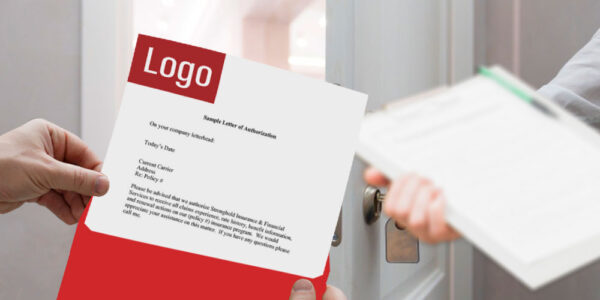 Who cares about business letterhead while you can do 90% of your communication through phone calls, emails, or video chats? Though it seems to be correct at first glance, sometimes sending a letter is the only appropriate way of interacting with business clients. In that case, isn't it much more professional to write your letter on stylish, personalized, headed paper than a piece of boring blank paper? That especially counts when this is your first interaction with a client because a personalized letterhead can make a lasting impression on everyone who encounters it. 
Is a Business Letterhead Necessary? 
Business letterheads are a perfect stationary tool to reinforce your brand identity. Therefore, the answer is, "Yes! It is!" Compared to emails, a professional real estate letterhead carries great weight because it shows your clients how much respect you have for them. Indeed, people will notice and appreciate the effort and time you invested in designing your business letterhead. Designing a professional business letterhead, however, can be challenging for many real estate agents. Here are some useful ideas to make your letterhead design as effective as possible. 
Expert Tips to Design a Stylish Business Letterhead 
Simplify Your Design
Simplicity is one of the most important principles behind a professional, engaging business letterhead. Your design should be impressive and catchy, but not distracting. Keep in mind that a letterhead acts as a frame for the content of the letter. In other words, your letterhead is supposed to showcase the content, not compete with it for grasping the recipient's attention. As you think of creative ideas for your letterhead design, try to keep it simple, but subtle and stylish.
Keep It in Line with Your Brand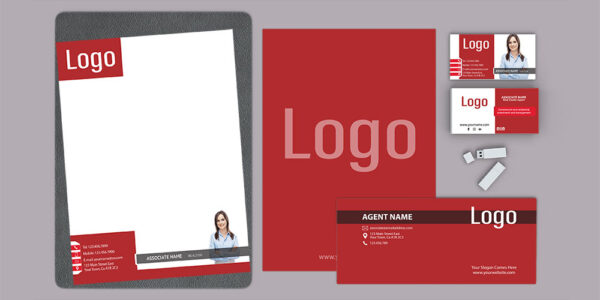 Have you ever thought about attracting more customers with headed letters? The main reason for designing a business letterhead is to help the public identify a brand by its attributes and differentiate it from other similar businesses. Like any other promotional tool, your letterhead design should be in line with the rest of your business. Consistency is not just about putting the logo of your brand on the top of the design, but reflecting the fonts, color scheme, imagery, or anything else that helps the recipient recognize your brand.
Pick the Right Paper Stock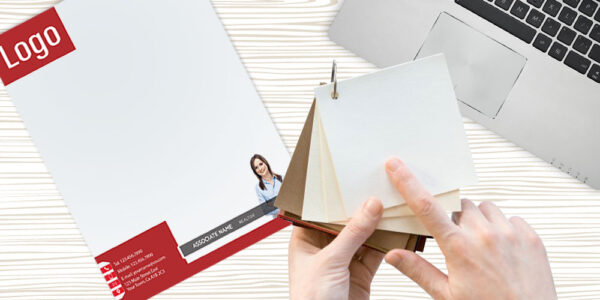 Many factors determine the effectiveness of a business letterhead and the quality of the paper used in one of them. Once the recipients touch your letterhead, they generally form an opinion about you that can be either entirely positive or entirely negative. To avoid looking like an amateur real estate agent, choose a premium paper stock that is attractive and pleasant to touch. As a general rule, the heavier the paper, the more premium and professional the business.
Make It Special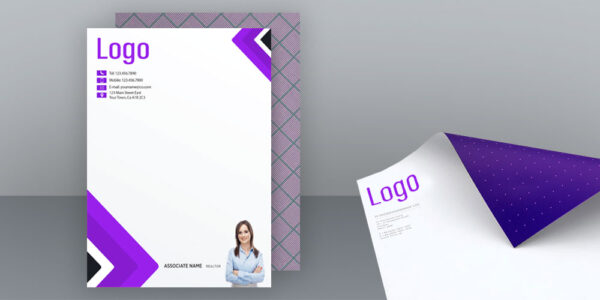 Using special effects in your design adds additional luster to your letterhead and sets it apart from others. One frequently used, low-cost option is printing a solid color overleaf and overprinting a spot-UV design on it. It is a simple, yet effective way to add sophistication to your letterhead design. Besides, there are various finishing methods such as embossing, debossing, die-cutting, foil blocking, and so forth, to make your design visually impressive.
Form a Hierarchy of Information 
When designing a business letterhead, keep in mind that it ought to serve one purpose. That is, conveying the required information effectively to the target audience. Create a hierarchy and arrange the details according to their importance. The most critical piece of information to give to your clients is who you are and what you do. As a general rule, your name, company's name, and logo come first. Then your phone number, fax number, email address, return address, website address, etc. are needed. Use appropriate font size for the necessary information to bring it effectively to the recipients' notice. Less important information, however, can be smaller in size and positioned in less obtrusive areas.
Use Business Envelopes 
If you have not given much thought to having branded business envelopes before, we recommend that you reconsider. First, sending a headed letter in a personalized envelope bespeaks your professionalism, credibility, and trustworthiness. Second, business envelopes act as hidden promotional tools helping your correspondences stand out from other letters your clients may receive. A branded envelope displaying your name and logo is more likely to be noticed and opened by the recipient. Third, personalized envelopes emphasize branding, reinforce your public image, and give you the chance to earn more profit.   
Last but not least, the quality of the print can make or break the design of your letterheads. Never leave the printing of your marketing materials to amateurs. AgentPrint is a go-to shop for those who care about quality. You only need to sign up and order. We'll take care of the print.
Though sending a marketing message via email has become too commonplace, it never shows how much you care for your clients. Real estate business letterhead, however, offers a unique opportunity to build trust with those prospects who are unsure of your trustworthiness.
We hope you find this content useful. Please share your views with us.