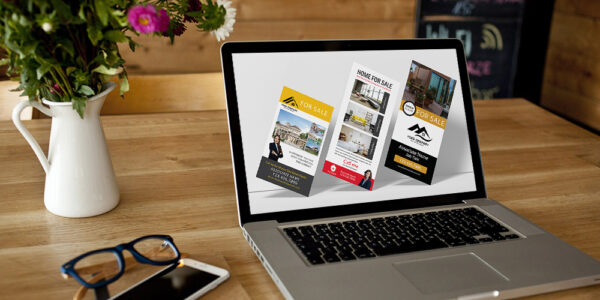 Are you having doubts about whether real estate flyers can help you boost the number of sales? Understandably, in growing the dominance of digital, you may not feel any need for spending money on printing and distributing real estate flyers while digital media and social platforms enable you to reach prospects fast and easily. 
Nevertheless, most seasoned real estate agents and brokers believe that conventional marketing approaches like real estate flyers can be, if not better, as sales-generating as advanced digital marketing tools. Although you might prefer to take advantage of the emerging technologies and modern developments, never forget that direct mail marketing methods can still make a change in this world provided that they are created and deployed properly. Here are a few golden tips to create engaging real estate flyers.
How to Design Real Estate Flyers? 
Target Your Audience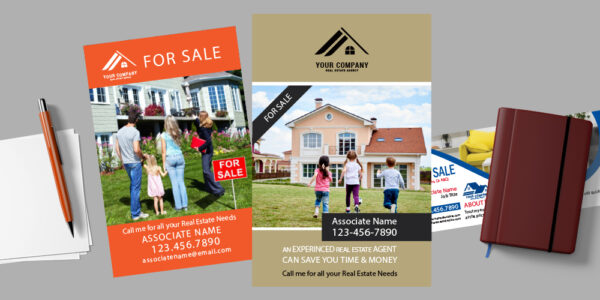 The first step to creating a successful direct mail campaign is that you must learn you don't have to send your flyers, postcards, or other mailers to every living creature in the area. First, define the target market for yourself and then try to tailor the visuals and text of your flyers in such a way that they achieve the maximum level of client engagement. Let's say you choose the first-house buyers as the target market. It would be interesting if you include photos of pets or small children playing in the backyard. Use your creativity to make your design as attractive as possible. 
The right design can successfully catch the recipient's attention and persuade them to do a double-take on your call to action. Keep in mind that you don't have to restrict yourself to a single design or audience. Instead, think of multiple design ideas for your audience to see what works best in practice. 
Add Accurate Contact Details 
In order to survive, every real estate business needs to produce leads. Your business won't grow larger unless you use all your marketing potential to sell as many properties as you can. One way to keep the target audience aware of your presence is to distribute mass listing flyers in the given area. It is also an efficient way to expand your circle of clients and attract more potential buyers. Include your contact details and website address in the flyers so that the recipients can contact you when necessary. You can also create a QR code for your real estate flyers to monitor the ROI of your marketing tool.
Address Common Pain Points 
Real estate flyers are versatile advertising tools. They not only improve brand recognition but also affect the potential buyers' opinion about a property, a neighborhood, or even an agent. To create attention-grabbing, memorable flyers, you need to know what your clients are looking for. Simple things such as adding a few lines about a house being ideal for a family or listing off the best coffee shops, clubs, or restaurants nearby the said house will give your flyers a personal touch that is hard to forget.
Develop a Strong Headline
Headlines play a crucial role in making the first impression. Come up with a charming headline that excites the recipients' curiosity to read the content. Similarly, the sub-headline should give the required details about the listing.
Hint at the Price  
There is a controversy over the inclusion of price on the flyers as you may want the potential buyers to contact you in person to negotiate for the price. If you prefer not to mention the price in your real estate flyers, at least let the interested buyers know how to discover it. Using phrases such as "Contact __ for price" or "Price available upon request at __" are clever ideas to avoid mentioning the exact price.
Give a Description of the Best Features 
Properly-written descriptions showcase the best aspects of a property and encourage buyers to make an offer. Go right to the point and begin the house description by telling the recipients what they can expect from the property listed for sale. Also, take advantage of the opportunity to brag about the unique specifications of the house, neighborhood amenities, location, etc.
Add Quality Photos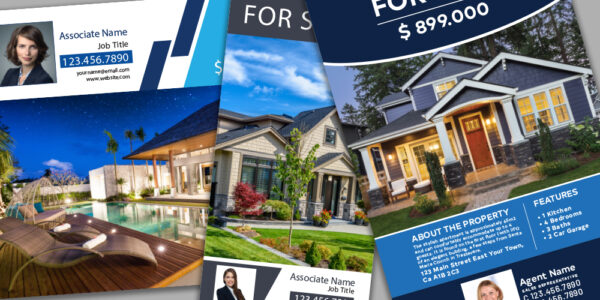 Attractive photos can do wonders for you! To make your real estate flyers as visually stunning as possible, place a small number of words on them, and instead, add high-resolution images taken from the unique features of the house. Avoid including too many photos in your design because they distract the readers' attention from your call to action and contact details.
Drive an Action 
Though designing real estate flyers is the beginning point of the property selling process, it is never enough to grab the eyes of prospects. You don't want the recipients only to read about and admire the magnificence of your property, but to make an offer. Make sure that the recipients know what the next step is. Develop a persuading call to action to funnel leads to your website or social media accounts where they can find detailed information about your listings.
Have any questions about the design of your real estate flyers, or something related? AgentPrint's graphic experts are always ready to assist you with your design!
We hope you find this content useful. Please share your views with us.