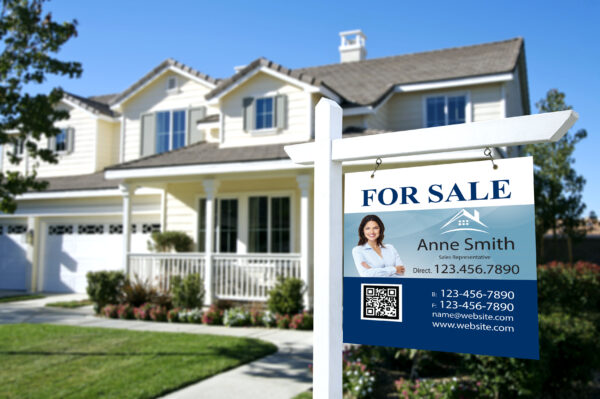 When a property is listed on the market, it is common practice to have multiple For Sale signs set up in front of and around the house. Do real estate signs still make a difference? In the digital world where most people start their days by searching online content on their smartphones, the relevance of traditional marketing tools like physical signage is in dispute. Though the measurable impact of real estate For Sale signs may not be as huge as that of online marketing tools, when combined with online marketing methods, they can reinforce all of your marketing channels.
Just think about it; there is no good reason not to include a sign while it is a simple tactic to put the word out about your listing in the neighborhood. So it would not be wise for real estate agents to ignore the undeniable advantages of real estate signs and cross them off the list. Keep reading to realize how this old marketing tactic can be more beneficial than assumed. 
How Do For Sale Signs Get Your Listing Sold?
Instant Connection 
Did you know that a large portion of the properties purchased every day is found through For Sale signs? A car is passing by your listing. The driver notices the For Sale sign and slams on the brake. S/he takes a look at the property, then s/he picks up his/her cellphone to dial your number. It is no surprise if For Sale signs make quick connections. People instantly respond to visual stimulations. 
Physical graphical For Sale signs with an eye-catching design can immediately grab the attention of potential buyers even from a distance. Simply install professionally-designed, quality directional yard signs around the house you are marketing, and you can rest assured that your listing will receive the attention it deserves. Whether you are assisting someone to find their dream home or trying to sell a listing in the shortest time, your intention must be visible to the prospects. Provided that you take care of the design, content, and location, your signs can maximize your listing's exposure. 
Brand Awareness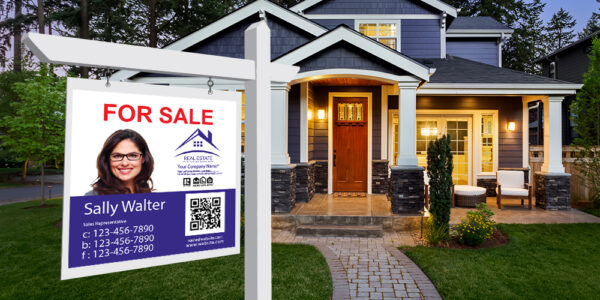 For Sale signs are not only used to get the people informed of a new listing; they are also powerful tools for building brand awareness. Developing a unique brand identity on your farm improves your image in the public eye and helps you become an authority in the community. Though For Sale signs are about properties, the elements of your brand such as logo, colour, typography, and tagline as well as your photo and contact information are also available to the viewers.
By having a For sale sign set up in front of your listing, you can kill two birds with one stone – as you are marketing the property, you are marketing yourself. Using branded marketing signs gives your career a sense of credibility and allows you to stay top of mind with the people living in that area.
Good First Impression
Generally, For Sale signs are created to serve two purposes: informing people about a house on the market and giving contact information to those who are interested in purchasing it. In the competitive market of real estate, however, realtor signs can be more than just physical reminders. Every seasoned real estate agent is aware of the role of curb appeal in increasing the desirability of a property. The quality of the materials used in manufacturing a sign and the attractiveness of the design can add to the curb appeal of your listing, leaving a positive first impression on the viewers that entices them to take a look inside the house.
Agentprint is an online store for real estate agents and brokers in which you can find high-quality real estate signs in addition to a full range of real estate print marketing products. Not only can you leave your design to our experts but also you can create your own design using our free online design studio. Don't look any further! Sign up and order.
Enhancement of Communication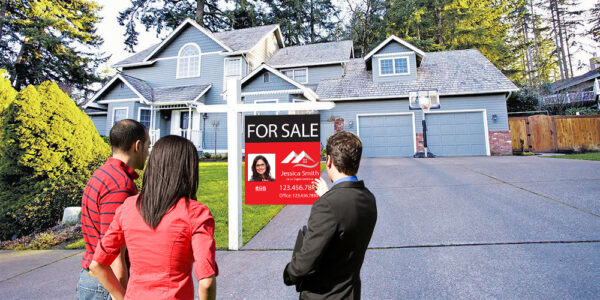 It is no exaggeration to say that outdoor signage is the most visible form of advertising. Why not take advantage of such outstanding visibility? As discussed earlier, the quality and appearance of your signs can influence people's assumptions about the quality of your services.
Properly designed signs convey the impression that you're a pro, encouraging the target audience to engage with your business. Most people trust a brand when they hear about it from others. It's more likely to be especially true in local or neighborhood marketing where more and more people can get informed about your sales and listings through word of mouth. The more people who know you, the more relationships you can build. If deployed in the right way, classical For Sale signs can still make a difference in this world.
We hope you find this content useful. Please share your views with us.