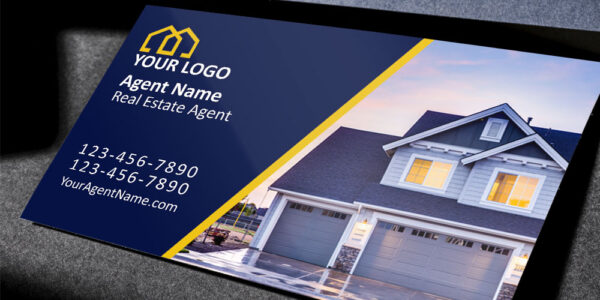 Small, magnificent, memorable. This is how a professionally designed realtor business card should be. Nothing can beat the impact that these tiny, graphical pieces of paper can have on your clients' minds. To market yourself as a professional, you have many weapons in your armory – creating a real estate website, launching a social media campaign, hosting open house events, to name but a few – but your realtor business card, if created properly, can become the most powerful one.  
Even in the days of Instagram, Facebook, and other social platforms, realtor business cards are exceptionally popular. In fact, they have not been replaced by modern technology but enhanced. A realtor card is still an indispensable element of every astute realtor's packet. Your business card is usually the first visual image a potential client, buyer, or investor has of your brand. How do you want people to perceive you? Consider the following excellent ideas to outdistance your competitors by a long way. 
How to Create a Memorable Realtor Business Card? 
Simple Is Elegant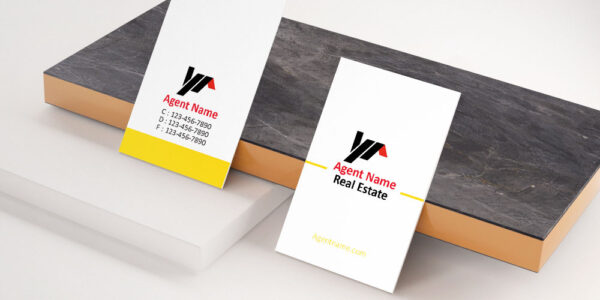 Did you know the quality of your realtor business card will affect people's judgment about you? Your realtor card reflects your brand personality. If people don't like your card, they will be less willing to do business with you. Remember that it can be very difficult to change the public's attitude towards a company. Be careful then!
Sometimes, minimal, colorless designs represent luxury, professionalism, and high-end flourishes better than colorful designs with images do. If you insist on using neutral colors or getting colorful does not fit your brand personality, focus on a luxurious black and gold or black and silver color palette. For example, you can add a design associated with your career on a solid black background as the centerpiece of your business card.
Use Pops of Color 
It won't be that much inspiring but a large number of realtor business cards are mostly black, white, or gray in color. Using color and stand-out relevant visuals will give a different look to a realtor card. Appearing uniquely and differently is the key to standing out in business – not all unique or different is successful though. 
Using colors in your realtor card design is a tried-and-true way to grab the immediate attention of prospects. Remember that different colors spark different feelings in people. While warm colors like red, orange, or yellow evoke a feeling of happiness, optimism, and energy while cooler colors like blue or green spark a feeling of calmness. 
A Smiling Face Goes a Long Way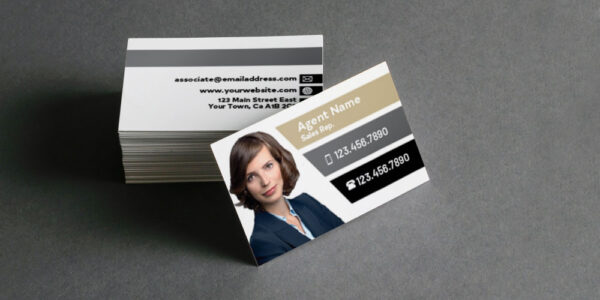 In the real estate world, relationships are the king. As a part of your job, you have to meet and greet clients every day. Adding a picture of yourself on your realtor business card is a great idea to kick off early. Clients may forget your name or phone, but they always remember your confident face smiling at them. 
Get Prospects on Your Website 
There is absolutely no way you can get everything about your business on an average-sized realtor business card. Only let absolutely vital information be on. Instead, insert a QR code that takes prospects directly to your real estate website where they can find any information they need. 
Give a Fresh Take to Your Business Cards 
Does a realtor business card have to be traditionally rectangular? Rectangle cards are the most common orientation used. But it doesn't mean that you can be creative. There is no "have to" for your card – design it as you wish. Your cards can be unique by shaping things differently. Vertical orientation, rounded corners, embossed logo with shiny ink, or innovative shapes associated with the industry will help your card to stay ahead of the pack. 
Apply Color to the Edges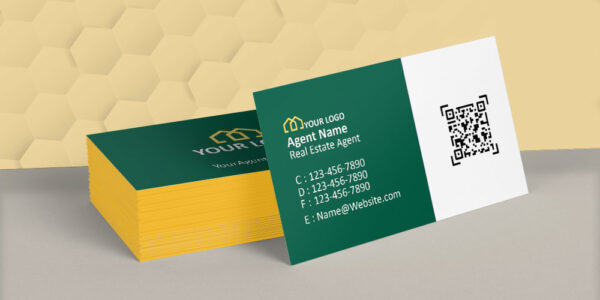 Do your realtor business cards sound pretty simple? Apply some color, albeit not to the surface, to make your cards stand out in a pile of other cards. If you are a big fan of minimal designs, using some special effects can add additional luster to your cards without ruining the design. Golden or painted edges not only add sophistication to simple realtor business card designs but also give them a dash of splendor. 
Your second to none design is ready now! Ready to get your business cards printed? AgentPrint, a real estate sign and marketing tools online printer, is the easiest way to print your cards with the best equipment in the industry. Need anything else? AgentPrint offers a wide selection of branded marketing products. A team of seasoned graphic designers is always ready to help you with your design. 
We hope you find this content useful. Please share your views with us.