The world of real estate is unique in many ways. For good reason, a lot of people decide to work with a real estate agent when selling a house. Selling your home on your own is not simple. The experts are trained to sell your home for you and have access to inside information on tactical approaches.
When they work for you to sell your property, most real estate agents will place a Real Estate Yard Sign in your yard, market your home in publications, have a few open houses, and make cold calls to potential buyers. When it comes to standard practices, it is rather straightforward. But occasionally, real estate salespeople are inventive.
Some real estate agents and homeowners selling their houses independently may go the additional mile in these circumstances to garner attention, make people laugh, and generally lighten the mood. Does it operate? Well, we can't say for sure. But you'll laugh a lot at the antics of these real estate brokers and homeowners.
9 F

unny Signs for Home That

May Attract Buyers!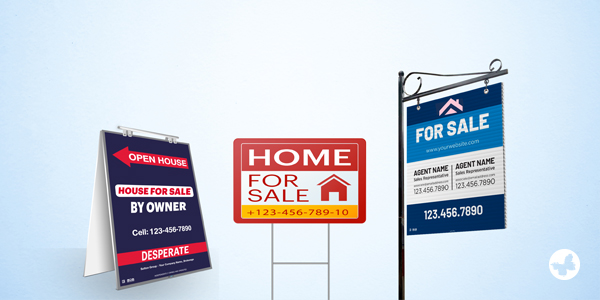 Providing Options!
This man made the choice to offer a much-needed remedy for relationship problems. When you can simply upgrade to a bigger home and avoid one another, why go through the divorce process? This is a great technique to increase your commission and address a couple's urgent issues!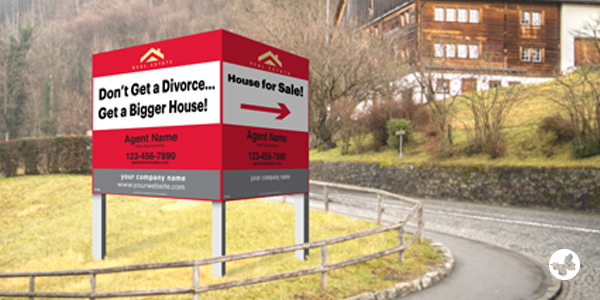 An Honesty with Desperation
In this for sale by owner sign, the seller made the decision to be simply truthful about the situation. The sign probably generated some chuckles and phone calls. It may have backfired with some lowball proposals, but desperation comes with a price.
Asking for Help?
Many people find talking about death to be uncomfortable, so this might either turn people away or draw them in for the chance to purchase a cheap house that needs to be sold. The images give off a spooky aura, but people need to sell their properties in one way or another, and death happens.
Ideal Competition
These two sellers decided to capitalize on how fiercely competitive the real estate industry can be. Why not make the most of the fact that they have to share a sign? So, who do you believe prevailed in the end?
People Enjoy Eating!
Delicious, free tacos and a house? There is no better combination! Think of eating tacos at your kitchen table on the first night in your new house. But can free tacos really persuade someone to pay for a whole house? the whole idea is funny yet questionable.
Game of Names
Dorita must be frequently questioned about her preference for Doritos and her Real Estate Yard Signs. She obviously has a wonderful sense of humour and makes use of her moniker to jump the gun on jokes. So, did she provide a bag of Doritos for everyone to consume at her open houses? That's certainly the case!
Diet fad for homes?
In order to attract customers, you sometimes need to cut the ingredients. In any case, who wants a gluten-free home? Definitely, not consumers who value their health! At least you may rest assured that in this house, you'll keep in shape!
A House and a Slice? Does it improve at all?
In the sense that you don't even need to prepare dinner, this house is truly move-in ready. So, is there a pizza consumption cap? Does this ultimately result in cost savings? Yes, it does, and this agency is aware of how popular pizza is.
brutal truth!
This for sale sign probably holds other purposes rather than selling the house. this seems to be a gesture of revenge. Otherwise, why would someone let the buyers know about a for-sale house's awful neighbours?
How to make a really good sign
Your initial encounter with prospective buyers may be through your Real Estate Yard Signs. We've all heard that first impressions matter a great deal. In addition to letting the neighbourhood know that you sell houses here, you want to use your for sale sign to attract customers who are actively seeking a new home. Within the constraints of the for sale sign, you want to attract current purchasers as well as establish your name in the minds of potential buyers and sellers down the road.
Your for sale sign should have three things: 
your name

the logo of your brokerage

 and your contact information, such as a phone number or email address. 
Ideal phone calls from prospective customers would allow you to immediately establish a personal connection. Nowadays, however, not everyone prefers to communicate primarily via phone. Your email address might provide similar results. Provide options for the buyers and let them choose.
If you want potential buyers to remember your name when they call you to express interest in the property or when they call your brokerage later to learn more about your services, your name needs to be clearly featured on the sign.
The key to nailing the finishing touches is understanding your audience. A modest sign with a subdued colour scheme hanging from a rustic wood colonial signpost might grab the attention of prospective buyers in a classic, historic area. Similar to how a contemporary metal post with a colourful sign could appeal to potential purchasers in a newly developed neighbourhood.
 Your choice of sign should accurately represent your brokerage and you while also blending in with the surrounding area. The majority of for-sale signs on the property itself function well with colonial signposts, but neighbourhood entrances might work with H-frame stake signs.
Conclusion 
Real Estate Yard Signs can increase the number of leads you receive by piquing the public's curiosity in addition to helping you sell the property you are representing swiftly and effectively. You'll quickly have a buyer and a list of potential customers if you complete them correctly.