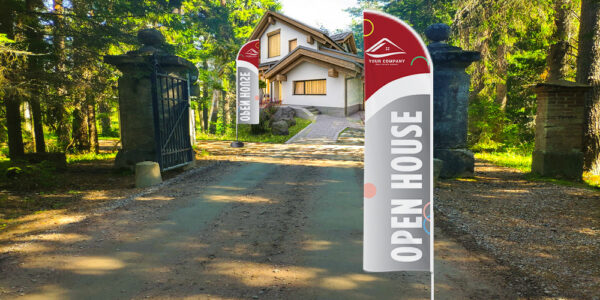 Why open house feather flags? It's simple. Being creative helps you set yourself apart, and if you set yourself apart, you will get seen. Among real estate signs, open house feather flags are uniquely different. Not only are they creative in shape but also fly above everything else in sight. A beautifully designed open house feather flag is usually displayed near a house which means the people passing by the house will be reached. Among those passing by the flag, there are potential buyers who are looking for a house with the same specifications as those of your house.
Do you worry whether your open house receives the attention you desire? Don't! Using outdoor open house feather flags is an exceptionally crowd-pulling strategy. Being large and imposing, open house feather flags can get noticed even from blocks away. It's not the whole story, though. Here are the reasons open house feather flags help you drive maximum foot traffic to your open house. 
Benefits of Open House Feather Flags
Outstanding Presentation 
Most people spend most of their day outside their homes. That's why outdoor advertising has a high likelihood of reaching local buyers. Open house feather flags are a highly effective choice to get the word out about your open house. Feather flags enjoy great visibility which means they can draw attention from a distance. It is very unlikely that people drive by or pass by a tall open house feather flag without noticing it. Even if people do not pay attention to your advertising, they unconsciously register some of the information.
Local Marketing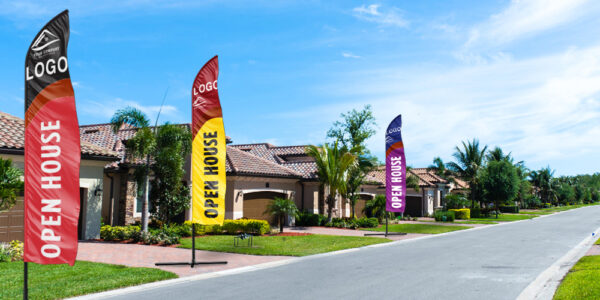 What's the purpose of hosting an open house? Obviously, to reach potential buyers in the neighborhood and sell the house at the best price. The more you succeed in attracting prospective buyers, the closer you get to your goal. How to attract local prospects? Increasing brand awareness among the public is one of the most effective strategies for prospecting. By increasing people's familiarity with your brand, customized open house feather flags increase the chance of gaining local buyers' trust. 
Customizability, Adaptability, Portability 
Many real estate printers offer stock feather flags for different marketing purposes. However, if you have creative ideas and familiarity with graphic design, AgenPrint, a real estate signs and marketing tools print online shop, provides you with an easy-to-use online, free design studio with thousands of DIY design templates. Choose a template and design your own open house feather flags. You can also shop real estate flyers, open house signs, feature sheets, and any other print marketing materials you need to promote your real estate business in just one stop. 
Open house feather flags are very adaptable. You can keep the flagpoles and hardware of your old feather flag and design a new flag for your next open house or any other advertising purposes. Feather flags are easy and quick to pack up and move. All you need to assemble a feather flag is a few minutes!
A Supplement to Regular Signs 
[button color="green" size="medium" link="https://www.agentprint.com/en/real-estate-flags.html" icon="" target="true"]real estate flags[/button]
No doubt regular real estate signs are still the industry standard. By having all types of signs at your disposal, however, you will generate more leads and sales out of your open houses. Though open house feather flags do not replace regular real estate signs, they can be viewed as another boost to your sales.  
House marketing is highly competitive. As a real estate agent, you can't last long in this industry unless you can stay ahead of the pack. A successful marketing campaign, however, does not have to break the bank. Open house feather flags are inexpensive, fun, and effective marketing solutions to promote open house events. 
We hope you find this content useful. Please share your views with us.