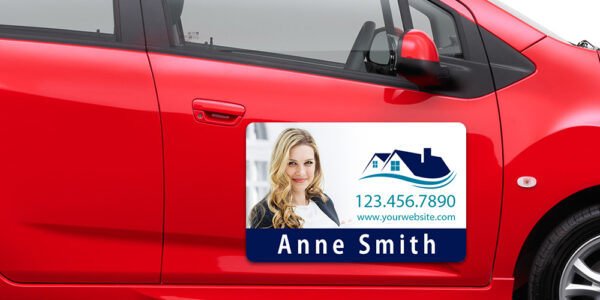 What do you think about mounting an advertising car magnet on the side of your car and driving around the town? The idea of moving advertising sounds cool, doesn't it? Real estate car magnets are an effective form of advertising. Having a magnetic sign on your vehicle brings your marketing message to the notice of a wide range of would-be customers every day. Nevertheless, you definitely don't want your vehicle to look like a gigantic refrigerator truck. What to do now? We tell you how to design your car magnet to make your mobile advertising as effective as possible. 
Why Car Magnet?
If you run a small business or you have just started a new one, you need to take serious action to establish your presence in the community. To put it simply, people need to know that you exist. Car magnets are a highly effective, yet low-cost option for announcing your presence in the area, especially if you have a limited budget. The top advantage of magnetic signs is that unlike stationary signage like For Sale signs or banners, their marketing potential is not limited to a specific geography. That's why even large companies or top businesses rely on magnetic signs to get more and more people to talk about them. 
How to Make a Killer Card Magnet?  
Exclude Unnecessary Information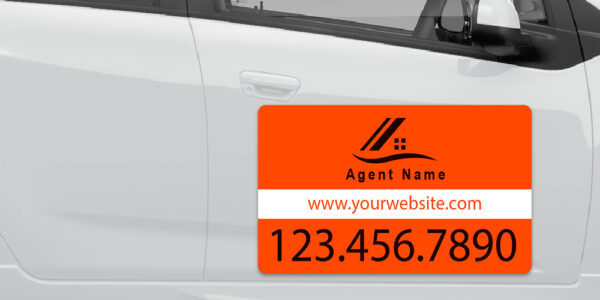 Real estate car magnets are different from real estate business cards. Don't overload your car magnet with all your information. The most necessary stuff such as your name and surname, brand logo, your photo, and phone number will suffice for the potential sellers or buyers to recognize you. If you have a website, you can put its address on your magnetic sign to increase mobile traffic and convert the leads into sales. 

Make It Easy to Read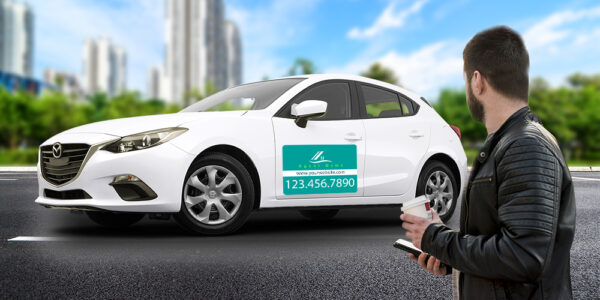 Don't expect your mobile advertising to generate immediate leads! Almost no one grabs his cellphone instantly to give you a call as they are passing by with their cars or walking on the sidewalk. Keep in mind that the biggest advantage of mobile advertising is increasing brand awareness. They help your face keep appearing in front of people so they can hardly forget you. However, this won't happen unless people can easily spot and read your car magnet even from afar. 

Drive Slowly 
Car magnets work best for enhancing your public image as a reliable real estate agent. But what will happen if people fail to read your marketing message because you'd like to drive like a maniac? Your marketing efforts will become worthless. Apart from that, remember your personal information on the car magnet is visible to everyone! So slow down before your public image goes down the drain! You don't want to be remembered for your terrible driving rather than your professional competence, do you?
Work on Design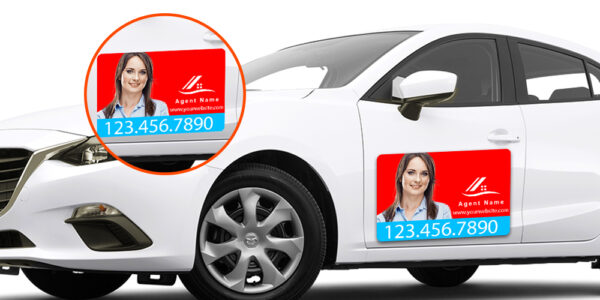 Mobile advertising is highly visible and great for increasing brand awareness. The color scheme, log, visuals, text, or other design elements should be selected carefully and be consistent with your brand. Brand consistency in your design helps prospects get familiar with your brand on a personal level. As a result, it will be easier for you to communicate your intended message to your target audience. Besides, magnetic signs are highly customizable. A unique, personalized design can set you apart from others.

Add a Smiling Picture of Yourself 
Many agents ask, "Shall I add a picture of mine on my real estate car magnet?" We recommend that you do it. Your vehicle will look like a company vehicle if you mount a magnetic sign with no picture on it. To create a better impression, consider having your picture and brand logo displayed by the car magnet. Remember this old adage, "A picture is worth a thousand words." If you are new to this business, your car magnet is probably the first picture most people have of you. By adding your picture to the car magnet, you can make quick connections and make sure that people will always remember your confident face.
Real estate car magnets are mini billboards that offer instant advertising with little effort. Depending on how they are deployed, real estate car magnets can bring a long-term ROI. Are you considering mounting real estate car magnets to your vehicle? look no further. agentprint offers you the best quality and price.
We hope you find this content useful. Please share your views with us.