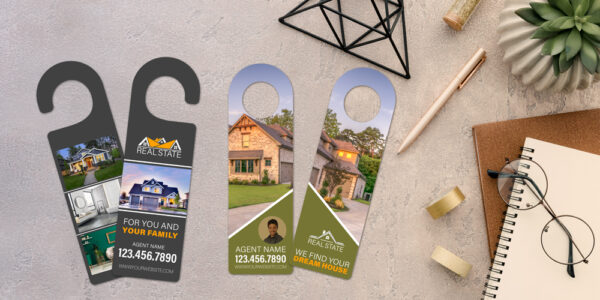 A real estate door hanger is indeed a unique way to capture prospects' attention. If you are looking for a perfect option for neighborhood-specific marketing, don't miss door hanger marketing. You have probably tried different direct mail marketing forms like real estate postcards to reach new clients in a certain geographical area. Regardless of how successful you've been in your previous direct marketing campaigns, door hanger marketing and real estate door hangers can make a big difference. Real estate door hanger marketing tips for boosting response rates include:
Set Your Goals
Winning marketing campaigns are not created by accident. They work because they follow a set of proven rules to attain certain goals. What do you exactly want to achieve by running a real estate door hanger marketing campaign? Of course, you want a high response rate, more sales, and eventually more profit! But you need to be more specific. For example, one of your goals can be "to seal 100 deals by the end of this year" or "to generate a response rate of 4% or more". 
By defining your goals prior to creating your real estate door hanger campaign, you can later evaluate the effectiveness of your marketing strategy, identify the strengths and weaknesses, and address the issues before moving on to the next real estate door hanger campaign.  
Know the Right Time to Distribute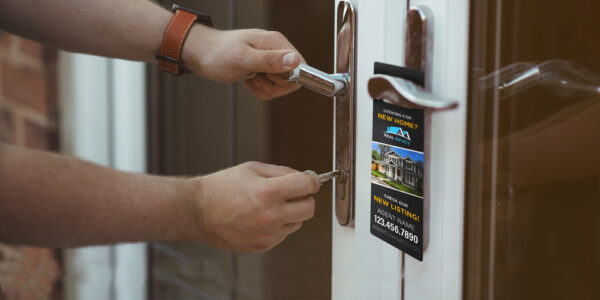 Good timing can increase the effectiveness of your real estate door hanger marketing campaign to a great extent. Don't distribute your marketing door hangers for no reason without considering the time unless you want to pour your dollars down the drain. Your real estate door hanger will mean nothing more than a piece of paper to the recipients unless they are ready to list their homes. 
Set a Time Limit for Your Offer 
A time-limited, special offer is one of the most crucial parts of a successful real estate door hanger marketing campaign. In fact, half of your success depends on your offer alone. However, not all offers meet with the desired response from the recipients. Remember that for your offer to be desirable for prospects, it should be time-limited, provide exceptional value for prospects, and have enough room for ample profit. 
Words Are Powerful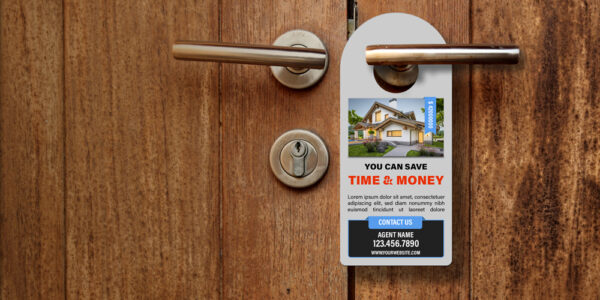 Don't neglect the power of words! Word the content in such a way that it creates a desire for your offer. Choose a headline that prominently shows the special offer or USP, asks a question, or addresses a pain point. Then briefly explain how the recipients can benefit from doing business with you. Don't forget to include a time-limited statement to create urgency for a response. Finally, come up with a powerful call to action. 
Design, Design, Design!
The design of your real estate door hanger for marketing is the very first thing people pay attention to. There is no way the residents don't notice a marketing door hanger hanging from the doorknob. However, you don't want your real estate door hanger only to be noticed. If you want people to recognize your brand and notice your special offer at first glance, you should create an impressive design that draws attention to the offer. Pick attention-grabbing colors, appropriate layout, stunning photos, and easy-to-read fonts. The more creative your design, the higher the chance your real estate door hanger stands out. 
Find a Professional Printer 
An irresistible offer, impressive design, and clever text, despite being crucial, can only guarantee 80% of your real estate door hanger campaign's success. The remaining 20% depends on the quality of print and paper used for printing. Note that the quality of your door hangers can play a big role in enhancing prospects' perception of your business. AgentPrint is an online real estate signs and marketing materials printer in which you can design and print the door hangers that outdistance your competitors by a long way. 
We hope you find this content useful. Please share your views with us.