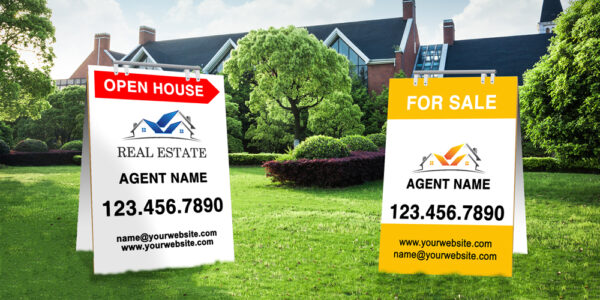 Not long ago, outdoor signage was the most used marketing strategy. Real estate yard signs like For Sale signs and sandwich board signs were set up in front of properties for sale both to advertise the listings and to provide the listing agent's contact information to those who walked or drove by. Today, however, the house-hunting process usually starts with online searches.
Online house searching is fast and convenient. Besides, Real estate websites and online tools allow users to apply their desired filters such as location, size, year built, number of bedrooms, etc., to capture the most relevant data. Despite the growing dominance of the internet, many businesses, real estate included, still rely on outdoor advertising. For your real estate marketing plan to pay off, you need to have both online and offline powerful marketing tools at your disposal. 
Using real estate sandwich board signs to increase the visibility of a house listed on the market is perhaps the most simple step to attracting potential buyers' attention to your listings. Here are some reasons why every real estate listing needs a few real estate sandwich board signs around it. 
How Do Sandwich Board Signs Help Your Business Grow?
They Spread the Word about Your Latest Listings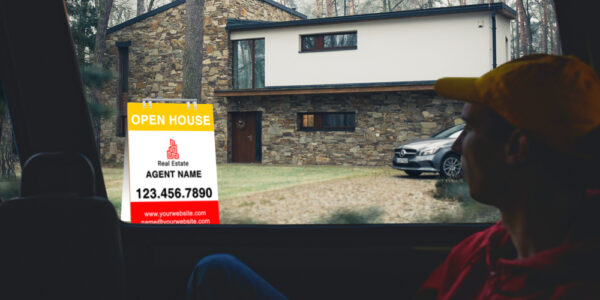 Have you recently listed a house for sale? Do your clients expect you to make it sell fast? The first function of sandwich board signs is to increase the visibility of a listing. One of the reasons sandwich board signs are used widely in real estate is that they can be easily noticed. Spreading the word about a listing is a painfully simple, yet very effective strategy to bring your marketing message to the potential buyers' notice. 
When house hunting, people usually drive into the neighborhood they like so that they can look for the houses on sale. By putting a few sandwich board signs around the property for sale, you can not only communicate your marketing message with the potential buyers living in the immediate neighborhood but also draw the attention of outsiders to your listings. 
Besides, there is a chance that your real estate sandwich board signs attract unexpected prospects. Remember that not all prospects house hunt actively. Who Knows? Perhaps while a potential buyer is driving around his/her favorite neighborhood, s/he sees a sign in front of a property for sale and decides to act on impulse! 
They Improve Your Professional Identity 

In the competitive world of business, brand awareness is everything. The way you market your real estate business affects the public's perception of your qualities as a real estate agent. Improving brand awareness especially matters for those agents who plan to dominate a particular neighborhood. Creating a strong professional identity helps you build trust with local prospects, encourages repeat business, and leads to generate more leads and sales.  
Using outdoor signage like real estate sandwich board signs can be a great way to get prospects interested in your business. To make the most of your marketing strategy, design your sandwich board signs in a way that they are consistent with your brand as well as other marketing materials. 
The above reasons can explain why real estate sidewalk signs like sandwich board signs still matter. Though we are living in the digital age, physical, outdoor signs can still go a long way. Considering how beneficial they can be, eliminating real estate sandwich boards signs can do your business a great disservice. 
AgentPrint can help you with the design and print of your sandwich board signs. You can either use our free online design studio to create your design or leave it to our graphic experts. 
We hope you find this content useful. Please share your views with us.