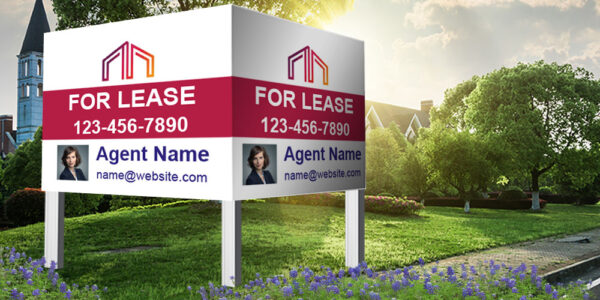 The real estate industry is one of the few brick-and-mortar sectors that still relies on outdoor signage. Real estate signs are especially important for local businesses because they can increase the visibility of a brand in a certain area as well as trigger word of mouth. If you run a local business, outdoor signs are the best form of marketing to put your message in front of the right audience.
For agents who consider opening or expanding a local business, appealing For Sale signs with striking content and visuals is a "must". Professionally designed signs create a strong impression in the mind of viewers, allowing your business to benefit a lot from increased foot traffic and sales.
Most real estate companies embrace a robust digital presence. The percentage of buyers house-hunting online is increasing day by day. Before driving long hours to attend an open house, buyers prefer to visit realty websites for listing details, photos, and videos. Why is real estate sign marketing still in use? The answer is because they help your brand get seen.
Establishing a strong real estate brand is all about repetition and continuity. Creating a strong visual identity is a time-tested way to build a dominating brand identity on a real estate farm. The following tips tell you how to increase brand recognition and lead-capturing with the help of real estate signs. 
Thought-provoking Real Estate Signs Ideas 
Design a Killer Logo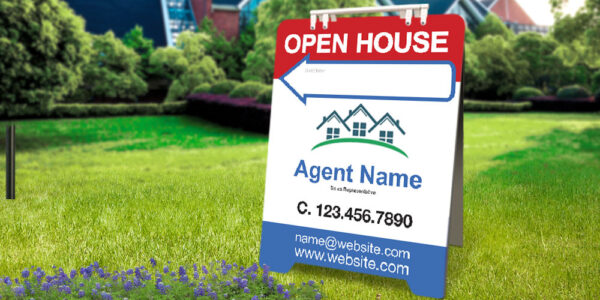 The attention span of people is very short. Your real estate signs have a few seconds to capture attention and deliver the message. Logos are the most important brand element, playing a significant role in building brand awareness. A logo is the first thing people notice when looking at a sign, and the brand is often recognized by its logo.
If you run a personal, independent real estate business, you have full control over the visual identity of your brand. A memorable logo can foster local brand recognition and enhance your professional look in the given real estate farm. If you have a logo already, consider updating it. These days, most people prefer to go to realtors who are and think modern.  
Get Creative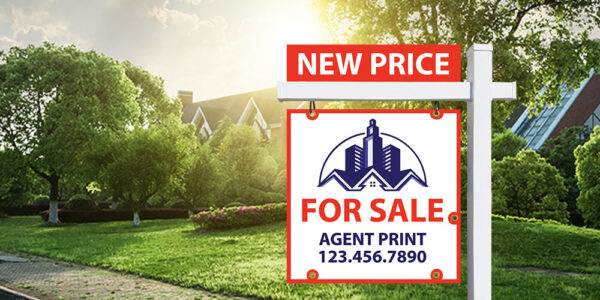 The reason to set up real estate signs in front of the listed property is that they attract the attention of drivers and pedestrians to the property as well as your brand. There is no reason you use your real estate signs as usually expected. Out-of-the-box ideas can go a long way. To get maximum attention, you can use staggering sequential signage along a roadway or sidewalk. Such a creative, fun idea can create anticipation, highlight your brand in the target audience's mind, and excite potential buyers' curiosity about the house for sale. 
Don't Just Market Properties, Market Yourself as Well 
When it comes to marketing real estate, most real estate agents and brokers give priority to online presence and digital marketing. It is understandable why. The nurture of real estate which is a customer service industry and the stiff competition in today's real estate market get agents and brokers to adapt to modern, profitable marketing solutions. To last in this career, it is important to connect to the online community, attract a wider audience, and generate as many leads as possible. 
Despite the ever-increasing dominance of digital in the real estate industry, it is neither wise nor possible to deny the importance of outdoor signage. "Sold Fast", "Under Contract", or "Coming Soon" custom riders on the top of your For Sale signs can instantly grab the eyes of those local sellers who consider taking advantage of the seller's market. 
There are many ways to showcase your brand but using real estate signs is perhaps the most noticeable one. What other innovative ways do you know to get the most of your real estate signs? 
We hope you find this content from www.agentprint.com useful. Please share your views with us.